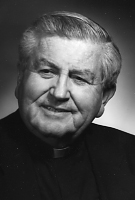 Father Alan J. Ryan, MM
Born: April 28, 1932
Ordained: June 11, 1960
Died: October 6, 2013
Father Alan J. Ryan died on October 6, 2013 at St. Teresa's Residence.  He was 81 years old and a Maryknoll priest for 53 years.
Alan John Ryan was born in New York City on April 28, 1932, one of two children of Aloysius and Claire Toner Ryan.  His early schooling was in Brooklyn at Our Lady of Angels Grammar School, and he graduated from Holy Trinity High School after which he worked at Greater New York Savings Bank for six months and every summer until he was ordained.  He entered Maryknoll on June 25, 1950.  He was ordained on June 11, 1960 and assigned to the Maryknoll Mission Region of Peru.
Father Ryan missioned in Pilar, Arequipa, Puno and Juli until June 1971.  He was then assigned to the United States Region working with the Development Department where he remained for more than 25 years.  He served as Regional Director in Buffalo, Houston, Chicago, Minneapolis, Chestnut Hill and Yonkers.  Father Ryan was a seasoned developer and accomplished many visitations to Bishops and SPF Directors, as well as many church dates and school talks.  He also served as Assistant to the Director of Development at the Center from 1991 to 1994.  Father Ryan continued to be a part of the Mission Education and Promotion Department (formerly the Development Department), and he worked at MaryknollCenter until 2001.
In 2002 Father Ryan was assigned to Retirement status in the U.S. Region to be available part time for Development and half the year in offering his services at the Maryknoll House of Prayer Apostolate at Lourdes, France.  In addition, on May 1, 2006 Father Ryan became the House Pastor of the Los Altos Maryknoll Residence for a period of three years.  In January, 2008 he joined the Retirement Community, and in November 2010 he moved to St. Teresa's Residence.
Wake services were held at 4:30 p.m. on October 28, 2013 at St. Teresa's, and at 7:30 p.m. in Queen of Apostles Chapel at MaryknollCenter where Father John Sullivan officiated and Father John Keegan read the biography.  Mass of Christian Burial was concelebrated in Queen of Apostles Chapel on October 29, 2013 at 11:00 a.m.  Father John J. Sullivan was Principal Celebrant and homilist.  Burial followed in Maryknoll Society Cemetery.