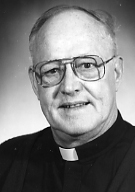 Father Alfred V. Keane, MM
Born: July 20, 1931
Ordained: June 14, 1958
Died: July 7, 2007
Father Keane died on July 7, 2007 at St. Teresa's, Maryknoll, N.Y. He was 75 years old and a Maryknoll priest for 49 years.
Father Alfred V. Keane was born on July 20, 1931 in Boston, Massachusetts to Thomas P. and Mary Lydon Keane. He had one brother, Thomas, a priest of the Boston Archdiocese, and two sisters, Judy Keane and Mary Anne Tripp. He also has three nephews and one niece. Father Keane joined Maryknoll in 1949 and was ordained on June 14, 1958.
Immediately after ordination, Father Keane was assigned to Korea where he served his entire overseas ministry. While in Korea, he engaged in various pastoral ministries in the dioceses of Chong Ju and Inchon. Besides parish assignments in the diocese of Chong Ju, he also served as a high school teacher and was principal of Sacred Heart School for the Deaf. Building on the foundation of his Maryknoll predecessors, he initiated modern education for the deaf in Korea.
In the diocese of Inchon, he was the first pastor of Holy Family parish in Pou Pyeong, Inchon. He continued his support for the well being of his people through the foundation of a credit union, assistance for workers in the factories and aid to a large group of lepers in the area. During this time, he also served the Society as OTP Coordinator, Research and Planning Coordinator and worked to establish the Maryknoll Language School. It was while in the capacity of pastor that Father Keane became aware of the problems facing the Amerasian children in Korea and other parts of Asia. He devoted his efforts to the passage of a law by the U.S. Congress allowing these rejected children to come home to America. Of this, President Reagan wrote to him: "I personally wish to thank you for your tireless efforts in bringing the plight of these children to the attention of the American public and government." Cardinal O'Connor also wrote: "I have deeply admired your selfless dedication to the cause of Amerasian children."
For reasons of health, Father Keane returned to the United States in 1986 and worked as a counselor for priests in Boston. For this, Cardinal Law wrote: "Father Keane has shown zeal and love for the Lord's work, has been a fine example and an inspiration. We will be forever grateful to him."
After a short time on development, Father Keane retired on August 1, 1995 and worked as cook and housekeeper at the Maryknoll house in East Walpole, Massachusetts. In September, 1998, he moved to St. Teresa's Residence.
His favorite scripture was from St. Paul to the Corinthians: By the grace of God, I am who I am.
Wake services were held at 4:30 p.m. on July 10, 2007 at St. Teresa's and at 7:30 p.m. in Queen of Apostles Chapel at Maryknoll Center where Father Thomas Egan officiated and Father Ray Sullivan read the biography. Mass of Christian Burial was concelebrated in Queen of Apostles Chapel on July 11, 2007 at 11:00 a.m. Father William Madden was Principal Celebrant, Father Michael Zunno, Homilist and Father Ray Sullivan read the Perpetual Oath. Fr. James Gilligan read the Gospel and Eulogy. Burial followed in Maryknoll Society Cemetery.