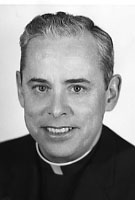 Father Edwin R. McDevitt, MM
Born: December 15, 1921
Ordained: June 11, 1949
Died: December 30, 1998
Father Edwin R. McDevitt died at St. Teresa's Residence in the morning of December 30, 1998. He was 77 years old and a Maryknoll priest for 49 years.
Edwin was born in Pawtucket, Rhode Island, on December 15, 1921, son of Raymond and Frances Moms McDevitt. He had one brother, Robert. His early education took place in St. Mary's Parochial School and he graduated in 1939 from St. Raphael Academy run by the Christian Brothers. Edwin entered Maryknoll Apostolic College (Venard) Clarks Summit, Pennsylvania in September 1939 and was ordained at Maryknoll, New York on June 11, 1949.
After ordination Father McDevitt was assigned to the Development House at Bedford, Massachusetts for promotion work throughout New England. On April 28, 1952, he was assigned to Maryknoll's mission in Kyoto, Japan, where he worked for three years in the Takano Parish near Kyoto, and returned to the United States three years later for medical treatment. Father McDevitt served for one year in a parish in Manchester, New Hampshire, and then returned to Development work in Brookline, Massachusetts. In December of 1960 he was transferred to Maryknoll Center Development and in March 1962, he was appointed assistant to the Treasurer General in charge of Society travel and insurance and the Mass Desk. He served in that capacity until September 1972 when he was assigned to Mountain View and in March 1973 moved to the Los Angeles Development House where he did part-time promotion and parish work at St. Agatha's.
Father McDevitt was formally enrolled in the Special Society Unit in May of 1977, and in November 1986 retired to Maryknoll Residence Los Altos, California. In March 1996, due to failing health, he transferred to St. Teresa's Residence where he was residing at the time of his death.
Wake services were held at 7:00 p.m. on January 4, 1999 at St. Teresa's and at 7:30 p.m. at Queen of Apostles Chapel at Maryknoll Center where Father Leo Shea officiated. Mass of Christian Burial was concelebrated at Queen of Apostles Chapel on January 5, 1999 at 11:00 am. Father Arthur Dwyer was Principal Celebrant and Father Edward Manning homilist. Burial followed at Maryknoll Center Cemetery with Bro. Wayne Fitzpatrick conducting the graveside service.