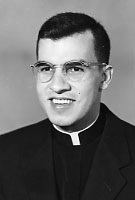 Father Elias J. Tederous, MM
Born: July 19, 1920
Ordained: June 11, 1955
Died: May 9, 2008
Father Elias Tederous, after a lengthy illness, died on May 9, 2008 at Phelps Memorial Hospital in Sleepy Hollow, New York. He was 87 years old and a Maryknoll priest for 52 years.
Elias Joseph Tederous was born July 19, 1920 in Dunkirk, New York, the son of Kaleel Elias and Lila Tederous. He attended St. Mary's Elementary and St. Mary's High Schools, graduating in 1938. He served for three years in the U.S. Army with the 159th field artillery battalion and later with he infantry overseas before entering Maryknoll in 1946.
After his ordination on June 11, 1955, Father Tederous was assigned to Hawaii where he spent his entire missionary career. He served as Assistant Pastor at St. John the Baptist Church in Kalihiwaena until 1957, when he was transferred to St. Benedict's in Honaunau, again as Assistant Pastor. From 1959 through June of 1962 he served as Curate, first at St. Benedict's parish school in Kona, and then at St. Joseph's school in Hilo. In 1962 he was named Pastor of the church in Honomu, and he worked in that capacity until July 1978. He was appointed Fourth Regional Assistant for the Hawaii Region in 1973.
Father Tederous was assigned to Society service in the Development Department, doing fund raising and vocation work in the Philadelphia, Pennsylvania and Buffalo, New York Development Houses from July 1978 until August 1981.
Father Tederous was reassigned to the Hawaii Region in September 1981 and served there until he joined the Retirement Community in 2005. He was Pastor of two parishes on the Hamakua Coast for 16 years and initiated and developed programs for leadership training for future Hawaiian religion teachers. While serving at Sacred Heart Church in Waianae, Hawaii, he gave instructions to adults who did not know much about their Catholic faith, in addition to fulfilling other types of parish work. While residing at the Maryknoll Society House in Honolulu, he regularly helped out in local parishes.
Father Tederous, after celebrating his 50th Jubilee at Maryknoll, New York in June 2005, remained at the Center taking up residence in St. Teresa's. He was assigned to the Retirement Community in December 2005.
Wake services were held at 4:30 p.m. on May 12, 2008 at St. Teresa's and at 7:30 p.m. in Queen of Apostles Chapel at Maryknoll Center where Father William Coy officiated and Father James Gilligan read the biography. Mass of Christian Burial was concelebrated in Queen of Apostles Chapel on May 13, 2008 at 11:00 a.m. Father John Soltis was Principal Celebrant and Father Robert Donnelly homilist. Burial followed in Maryknoll Society Cemetery with Father John McAuley conducting the graveside service.