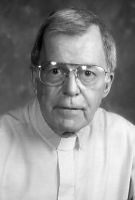 Father James A. Jackson, MM
Born: April 16, 1918
Ordained: June 12, 1948
Died: March 16, 2005
Father James A. Jackson died on March 16, 2005 at St. Teresa's Residence, Maryknoll, New York. He was 86 years old and a Maryknoll priest for 56 years.
James Allan Jackson was born on April 16, 1918 in Minneapolis, Minnesota, son of Arthur and Clara Bourdon Jackson. He graduated from St. Anthony's grammar school. After two years at Edison High School, two years were given to learning the art of pastry chef, after which several months of baking in a Civilian Conservation Corps (CCC) Camp followed. Feeling called to priesthood, Father Jackson took up high school again at St. John's Preparatory School at Collegeville, MN where Father Virgil Michel, O.S.B., the great liturgist and social justice advocate, left a lasting mark. Wanting to join Maryknoll, he was advised to finish high school in Minneapolis so as to be at home, and he graduated from DeLaSalle. In 1939, Father Jackson began his studies for Maryknoll and entered Maryknoll Junior Seminary at Clarks Summit, Pennsylvania and was ordained at Maryknoll, New York on June 12, 1948.
After ordination, Father Jackson was assigned to the Hawaii Region where he spent the following forty-five years. At Sacred Heart parish on O'ahu there was much evangelization to be done among enthusiastic converts. After three years, Bishop Lane advised Father Jackson to spend a few months in Tokyo to study the culture and language so as to better work among the Japanese people with whom he worked on the Islands.
Returning to Hawaii, parish work again beckoned him at Sacred Heart Church. In 1958 an assignment to a rural area was welcomed and there was time to absorb the documents of Vatican II. In 1967 studies at the University of San Francisco brought an opportunity to study the teachings of Teilhard deChardin. This afforded a new zest for learning. Father received his BA in Liberal Studies at the University of Hawaii, Hilo Campus.
An interest in continuing education brought Father Jackson to engage in studies at Fort Wright College summer sessions, Columbia Teachers College with studies in scripture at Oxford. While in Hilo, Father Jackson was active in challenging the Vietnam experience, supporting Martin Luther King and Caesar Chavez. He was also the representative of the Hawaii Region on the Asian-Pacific Peace and Justice Committee. Father Jackson returned to Maryknoll for Mission Renewal and then returned to Hawaii. He was assigned again to mission at Sacred Heart. In October 1989, he was appointed to a three-year term as Second Assistant to the Regional Superior of the Hawaii Region.
At age seventy-five, Father Jackson was assigned to the Special Society Unit and moved to Los Altos, California, where he was active with senior citizens who were in transition. In February 1997, Father moved to St. Teresa's Residence and in 2001 was assigned to the Retirement Community.
Wake services were held at 7:00p.m. on March 21,2005 at St. Teresa's and at 7:30p.m. at Queen of Apostles Chapel at Maryknoll Center where Father Clyde Phillips officiated and Father William Coy read the biography. Mass of Christian Burial was concelebrated at Queen of Apostles Chapel on March 22,2005 at 11:00 a.m. Father Robert Reiley was Principal Celebrant and homilist. Burial followed at Maryknoll Center Cemetery with Father John J. McAuley officiating.