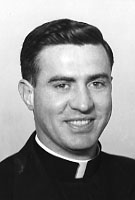 Father James B. Nagle, MM
Born: May 21, 1924
Ordained: June 14, 1952
Died: June 25, 2004
Father James Nagle died at St. Teresa's Residence, Maryknoll, New York in the early hours of June 25, 2004. He was 80 years old and a Maryknoll priest for 52.
James Bernard Nagle was born on May 21, 1924, in Cambridge, Massachusetts, son of James and Anne Brennan Nagle. He attended Blessed Sacrament Parochial School and graduated from Rindge Technical School in Cambridge in June of 1941. He entered Maryknoll Apostolic College (Venard), Clarks Summit, Pennsylvania, on July 16, 1942, received his Bachelor of Arts degree in Philosophy and was ordained at Maryknoll Seminary, New York, on June 14, 1952.
After ordination, Father Nagle was assigned to the Maryknoll Mission in Yucatan, Mexico. During his language studies he served as assistant pastor in Col6nia Yucatan and continued there until 1956. He worked well with the people. He was appointed pastor of the Peto mission parish in 1956 and worked there for three years until he was appointed pastor of the Cozumel parish, where he served the parishioners with limitless patience. In 1960 he was assigned as pastor in the Isla de Mujeres parish where his parishioners were scattered through 19 villages along the Puerto Juarez Highway. He won their confidence and they responded well to him. As pastor of San Sebastiain Parish in Merida, he developed an extensive youth ministry that exists to this day. In 1967 he was one of the first Maryknollers assigned to urban ministry in Mexico City.
In November 1970, he was assigned to the Maryknoll Mission Region in Bolivia, South America. While in Bolivia, he celebrated his 25th anniversary of ordination. On January 20, 1976, he was assigned to the Maryknoll Mission Region in Venezuela and adapted well to the new mission method of team ministry. After many years of working in Venezuela and two years of renewal studies in the United States, he was assigned to the Maryknoll Mission Region in Peru where he served for one year in Ciudad de Dios parish as assistant pastor.
Father Nagle was recalled to the United States on June 18, 1986 to serve for three years as Manager of the Center Business Office. On March 1, 1991, at his own request, he was assigned to the Special Society Unit (retirement) with residence at Maryknoll Residence, Los Altos, California. He came to St. Teresa's Residence in September 1999. Among his many talents, the one that was most recently brought into service was his business acumen at St. Teresa's where he served as 'house banker', taking care of the personal accounts of the residents.
Wake services were held at 4:30 p.m. on June 30, 2004 at St. Teresa's and at 7:30 p.m. in Queen of Apostles Chapel, conducted by Father John McKernan. Biography was read by Father Joseph Heim Mass of Christian Burial was concelebrated in Queen of Apostles Chapel on July 1, 2004 at 11:00 a.m. Father Austin Nagle, SS.CC was Principal Celebrant and Father Edward Wroblewski was homilist. Burial followed in Maryknoll Society Cemetery with Father John Barth conducting the graveside service.