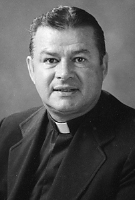 Father Joseph E. Avery, MM
Born: October 26, 1919
Ordained: June 11, 1949
Died: August 15, 1997
Father Joseph Avery died at St. Teresa's Residence, Maryknoll, New York, on Friday, August 15, 1997, the Feast of the Assumption, shortly before 6:00 am. He was 77 years old and a Maryknoll priest for 48 years.
Joseph Edward Avery was born in Watertown, Massachusetts, on October 26, 1919, son of James H. and Mary Hayes Avery. He has two brothers and two sisters. One of his cousins is Father Edward Hayes, M.M. His early schooling took place in Blessed Sacrament Grammar School in Cambridge and Cambridge Latin High School. After graduation from High School he worked for three years in a commercial printing supply house.
Joseph entered Maryknoll in September, 1939, in Akron, Ohio, where he pursued special studies for one year, followed by two years at Maryknoll Junior College (Venard), Clarks Summit, Pennsylvania and four years of theology studies at Maryknoll Seminary, New York. He was ordained to the priesthood at Maryknoll, New York, on June 11, 1949.
After ordination, Father Avery was assigned to Maryknoll's mission in Hawaii and spent practically his entire missionary life there. He carried out his mission apostolate as pastor or associate pastor in various parishes on the islands of Oahu and Hawaii, including Sacred Heart in Honolulu, St. Joseph and Sacred Heart in Hilo, Our Lady of Grace in Kohala, Immaculate Heart of Mary in Papaikou and St. Anthony of Padua in Kailua.
While on Home Leave in April 1956, Father Avery served for six months as Chaplain at the United States Air Base in Thule, Greenland. On May 1, 1975, he was assigned to the United States Region where he did Development work in Cleveland, Ohio, for one year. He returned to Hawaii in July, 1976.
As pastor of the Star of the Sea parish in Kalipana, he commissioned Hilo artist George Lorch to do a series of murals, adding to the paintings in the small wooden church. In his murals, the artist included scenes from Hawaii's past as well as Catholic subjects such as the Mysteries of the Rosary. When a lava flow from an eruption of the Kilauea volcano threatened the church, the parishioners saved it by moving it to safer ground.
While in the United States in 1989 for the celebration of his 40th anniversary of ordination at Maryknoll, New York, he received word that the Immaculate Heart of Mary Church in Papaikou where he was pastor had been destroyed by fire. He immediately resolved to rebuild, saying, "It's in the misfortunes of life that people's goodness really comes out."
Father Avery had a remarkable talent for meeting people and remembering their names which made him very popular and effective with them. He was widely known throughout the state for his earnestness, affability and genuine concern for his people. "My greatest joy," he said,"is being able to help people and share God's love with them." With his outgoing personality and concern for people, he was able to provide spiritual consolation to many of his parishioners. He was known to reach out to people, not only from the pulpit, but also behind the scenes in the parish family. His hobby was photography and he was able to please many people with photos he had taken of them and their families. Because of his size, jet black hair and olive complexion along with his swimming skills, his love for the sea and knowledge of the language, he was often mistaken for a Hawaiian.
Father Avery was assigned to the Special Society Unit on May 4,1993. He first resided at Maryknoll Residence in Los Altos, California. On December 26, 1995, he moved to St. Teresa's Residence at Maryknoll, New York, where he took an active part in community activities until shortly before his death.
Wake services for Father Avery were held on August 18, 1997 at St. Teresa's Residence Chapel at 7:00 p.m. and at the Queen of Apostles Chapel at 7:30. Mass of Christian Burial was concelebrated on August 19 in Queen of Apostles Chapel at 11:00 a.m. with Fr. Edward Hayes as Principal Celebrant. Fr. Fidelis Goodman was the homilist. The graveside service was conducted by Fr. Jeremiah Burr.