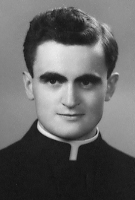 Father Leo T. Conners, MM
Born: October 16, 1913
Ordained: June 21, 1942
Died: September 13, 1989
Father Leo Thomas Conners died in St. Paul, Minnesota on September 13, 1989. He was 75 years old and a Maryknoller for 51 years.
Leo Thomas was born in Newport, Minnesota on October 16, 1913, son of Gregory Conners and Marie Burns. He had 3 brothers and 1 sister. Early education was in schools and the minor seminary in St. Paul. Leo credited his call to the priesthood to his early formation in a close-knit small town family which was blessed with"a pious mother and provident father". Talks by Bishop James E. Walsh and Fr. Hugh Craig at Nazareth Hall interested him in Maryknoll. These were reinforced by the fact that three of his classmates left to join Maryknoll. He entered the Venard in 1935. He was ordained at Maryknoll, N.Y. on June 21, 1942.
During his years of study academic work was not easy for him. Although at first he had a tendency to complain and criticize, he was noted as a serious and sincere person and a dependable worker. His Novice Master noted great development during the Novitiate year and characterized him at its end as "generous, willing, reliable, dependable, showing initiative and good judgment; a good influence on the community with a knack of making many good friends – an excellent prospect."
Leo's first assignment after Ordination was as Assistant Procurator at the Center. The following year he was assigned to Yucatan, serving in the parishes of Peto and Bacalar. Three years later he was assigned to Guatemala where he was Pastor in San Pedro and Quilco, and then Assistant in Huehuetenango. He was noted in this work in these places for working with young people and for bringing many people to the practice of the faith. In Huehuetenango he was responsible for building chapels in many of the outlying hamlets. In 1960 he was assigned to Peru and worked in Ilave, Huancane and Huancayo. In 1983 he was assigned to the Special Society Unit and resided in St. Paul.
If ever there has been an entrepreneurial type in Maryknoll, Leo was its personification, not for personal gain but as a means to help others. As a seminarian, when bicycles were allowed to the students, he developed a small enterprise of bicycle sales and repairs at the seminary. Later, in Guatemala, he assisted the economies of the towns in which he worked by instituting mule trains for the transportation of products. In the highlands of Peru he worked in the most remote areas along Lake Titicaca and developed a fish processing plant for providing frozen fish to the cities of Lima and Arequipa. He was famous among his colleagues everywhere for accumulating various material that might have possible use in the future.
Many people were favored by Leo's generosity and affability. He was well known for the way people were attracted to him and he formed many friendships everywhere he worked. It was common for him to go out of his way to do a favor for others. He worked hard and was an example of the "rugged individual" Maryknoller of his time. This led him into an independent and personal approach to his work and to develop many projects and a variety of activities.