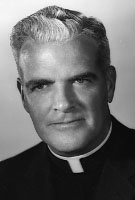 Father William F. Desmond, MM
Born: October 20, 1921
Ordained: June 12, 1948
Died: September 27, 1985
Father William Desmond died after a long illness on September 27, 1985 in a hospital in Winchester, Massachusetts. He was sixty-four.
Fr. Bill spent most of his missionary career in the Hawaii Region. He was born in Chelsee, Massachusetts, on October 20, 1921 and attended Immaculate Conception parochial school in Revere, Massachusetts. At a young age, he became interested in the priesthood, while an altar boy, and first heard of Maryknoll through The Field Afar. He wrote about his first contacts with Maryknoll: "Once a Fr. McDermott came to our school and gave a talk. He told us about Fr. Sweeney and the work with the lepers. It impressed me deeply. He talked also about the work of Fr. Connors and how Maryknoll was an American institute to send people to mission. After reading more and more about it, I desired to do something pleasing for the sake of Christ."
Many years later, as a Maryknoller, Father Bill, reflecting on these things, noted: "I have never been sorry that I took these steps. It was God who had a great amount to do with it all."
He entered the Venard in 1939 and was ordained on June 12, 1948. His first assignment, much to his chagrin, was to the faculty at the Venard. However, this was suddenly rescinded and he was able to sail for Hawaii in July of 1948. He served in many important positions there. He was a man on whom you could depend and well thought-of by his fellow Maryknollers. Four times he was elected to be a part of the Regional Council. The men had confidence in his good judgment and leadership qualities. He was able to use his missionary talents in one of the largest and most prestigious parishes in Oahu, as a pastor. He was later appointed by the Asian Regional Superiors to be the Asian Coordinator.
There was no doubt about his dedication, his quality of being a hard worker and a good organizer. His superiors over the years had noted time and time again that "Father Bill does a fine job wherever he is. He is very considerate in his work and a hard worker. He is an excellent preacher, is zealous and has good judgment." One superior wrote: "Fr. Bill is a good man. I think he will always give a good account of himself." This is a tribute to him who has been called home and we are confident he will give a good account of himself – a good person, a good priest and a fine Maryknoll Missioner.
Perhaps we can reflect on the words of St. Paul, thinking of Fr. Desmond's life: "As for me, the hour has come to be sacrificed; the time is here for me to leave this life. I have done my best in the race; I have run the full distance; I have kept the faith. And now there is waiting for me the prize of victory awarded for a righteous life, the prize which the Lord will give me on that day – and not only to me but to all those who wait with love for Him to appear. (2 Tim. 4:6-8)"
The Wake Service was held on Tuesday evening, October 1, with Fr. Art Dwyer conducting the ceremony. The Funeral Mass was celebrated the next day by Fr. Leo Somer, with Fr. Rafael Davila preaching the Homily.