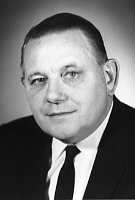 Brother Kenneth Joyce, MM
Born: March 13, 1918
Oath: June 29, 1949
Died: August 25, 1994
Brother Kenneth Joyce died on Thursday afternoon, August 25, 1994 in Phelps Memorial Hospital, North Tarrytown, New York. He was 76 years old and a Maryknoll Brother for 45 years.
Joseph James was born on March 13, 1918, in Brooklyn, New York, son of William D. and Anna Leib Joyce. He had three brothers and six sisters. His early schooling took place in public school 123 in Jamaica, Long Island. He also completed two years in Jamaica Vocational High School and one year in Murray Hill Vocational High School in New York City. He attended night school for two years at the New York School of Employing Printers. Joseph served Army and was honorably discharged as a T/5th Grade in October 1946.
Joseph entered Maryknoll on September 21, 1947 and pronounced his First Oath of Obedience and took the religious name of Brother Kenneth on June 29, 1949 at the Brothers Novitiate in Akron, Ohio. He took his perpetual oath on June 20, 1952.
Prior to entering Maryknoll, Brother Kenneth worked as a graphic artist for a New York advertising firm and used his talent with brush and pen periodically during his years with the Society, as occasion demanded. In the days before the advent of sophisticated graphic technology he worked for some years in the Art Department of the Maryknoll magazine doing layout work and lettering. At first sight, Brother Kenneth would not impress one as being particularly athletic. He was, however, an accomplished baseball pitcher, having pitched for a U.S. Army team during his time in the service. He was also a better-than-average tennis player and did well in golf.
Brother Kenneth had a number of assignments, all in the United States. He served in the Promotion Office in Brookline, Massachusetts for one year, and then transferred for one year to Maryknoll Junior Seminary, Los Altos, California, for general maintenance work. In 1951, he was assigned for special training in carpentry at the William Hood Dunwoody Industrial Institute in Minneapolis. In May of 1953 he began a years s service at Maryknoll Center, followed by one year at the Maryknoll Japanese Mission in Los Angeles, California. On April 2, 1956, Brother Kenneth was assigned to Maryknoll Center to work in the Public Relations Department for two years. Again, he was transferred back to the Japanese Mission in Los Angeles. Between 1966 and 1982, Brother Kenneth worked at Maryknoll Center and the Japanese Mission in Los Angeles.
Brother Kenneth was also known for a jovial, Brooklyn-type humor. His accounts of personal experiences were well salted with wry comments and funny one-liners. One of his contemporaries recalled an incident early on in his career in Maryknoll which took place in chapel. It was the custom for the Brothers to take turns leading the hymns. Time came for Brother Kenneth's debut as a leader in song. Singing was definitely not one of his talents and his first attempt was a disaster. After the laughter subsided, Kenneth said to the Brothers' congregation: "So who were you expecting, John McCormack!"
On May 15, 1982 he was assigned to the Maryknoll Residence in Los Altos, California and enrolled in the Special Society Unit on May 1, 1983. In February 1990, with increasing health problems, Brother Kenneth came to reside at St. Teresa's Residence, where he remained until his death.
Wake services for Brother Kenneth were conducted Monday, August 29th at 7:30 PM in Our Lady Queen of the Apostles Chapel at Maryknoll, New York. Fr. John Mihelko was principal Celebrant and Fr. John Hudert Homilist at the Concelebrated Mass in the Society Chapel at Maryknoll on Tuesday, August 30th at 11:30 AM. Graveside services were conducted by Brother Wayne Fitzpatrick in the Maryknoll Society Cemetery.
Each Maryknoll priest is requested to offer one Mass for the repose of the soul of Brother Kenneth; other Maryknollers are requested to remember him in their public and private prayers.