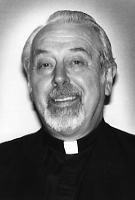 Father Anthony B. Brodniak, MM
Born: September 3, 1926
Ordained: June 12, 1954
Died: December 21, 2011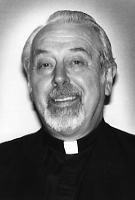 Born: September 3, 1926
Ordained: June 12, 1954
Died: December 21, 2011

Father Anthony B. Brodniak died on December 21, 2011 at Phelps Memorial Hospital, Sleepy Hollow, New York. He was 85 years old and a Maryknoll priest for 57 years.
Anthony Brodniak was born on September 3, 1926 in Alameda, California, son of John Joseph Brodniak and Paula Boettcher Brodniak. He has one sister, Paula. He attended Our Lady of the Valley and St. Francis de Sales Grade Schools and, at 14, entered Maryknoll Junior Seminary, Mountain View, California, on September 11, 1940. He graduated from St. Joseph's College, Mountain View, California and received his Bachelor of Arts degree in Philosophy in 1949 at Maryknoll Seminary in Ossining, New York. He was ordained a priest in Annunciation Chapel in the Maryknoll Sisters Motherhouse on June 12, 1954.
After ordination, Father Brodniak was assigned to the Maryknoll Mission in Japan. During a year of Japanese language and cultural studies, he acquired a good command of the language and was appointed Assistant Pastor of the Yokkaichi Parish in the Mie Prefecture in 1955. On April 9, 1963 he was appointed Chaplain and teacher at the Maryknoll Sisters High School for girls, at the same time remaining Assistant Pastor in Yokkaichi. On February 1, 1965 he was appointed Pastor of the new parish in Nagaoka, where he established a new mission and a kindergarten.
While on home furlough in 1960, Father Brodniak took courses in Child Psychology and Education at Holy Name College in Oakland, California. On home furlough in 1967, he took courses in Counseling, Special Education and Moral Theology at the University of San Francisco, California.
In September 1967 he was appointed, for a five-year term, Administrator of a large institution for mentally handicapped children. It was the largest institution in the Mie Prefecture and the fourth largest in the country for retarded children. He received recognition by the Prefectural and National government authorities as an educator in this field, even though his theories and approaches completely differed from those of Japanese educators in this field.
In July 1972 Father Brodniak was granted an extended sick leave in Oakland, California. During his recuperation he served in St. Augustine's Parish in Oakland and also participated in the Mission Renewal Program at Maryknoll, New York in the fall of 1974. He was assigned to the Japan Mission Region on November 8, 1974, and upon arrival in March of 1975, he was appointed Assistant Pastor of the Matsuzaka Parish. On April 1, 1976 he was appointed Pastor of the Parish in Ise. In February 1979 he was assigned to work full time in the Directed Prayer and Directed Retreat apostolate, continuing as Pastor of the Parish in Ise until December 31, 1979.
In September 1981 Father Brodniak returned to the United States for a three-month course in Clinical Pastoral Education at Providence Hospital in Oakland, California. The following year he entered the one-year program at the Institute for Spiritual Leadership in Chicago, Illinois. He returned to Japan in 1983, taking up residence in the Maryknoll Center House in Karasaki, and in 1984 he was given the responsibility of supervising that residence. From there he traveled about the country as a member of teams made up of Japanese and American priests and Sisters, companioning people on eight-day retreats or giving workshops on spirituality. Father continued until May, 2010 overseeing the Karasaki Society House, engaging in individually companioned retreats, as well as giving workshops dealing with the basic theme, "From self-knowledge to God". As of June 1, 2011, Father Brodniak was assigned to the U.S. Region, assisting the Office of Society Personnel as an accompanier of Society Members. While in this assignment, he created notes for facilitating another Member in the process of re-inculturation.
Wake services were held at 4:30 p.m. on December 27, 2011 at St. Teresa's, and at 7:30 p.m. in Queen of Apostles Chapel at Maryknoll Center where Father Ernest Lukaschek officiated and Father Raymond Sullivan read the biography. Mass of Christian Burial was concelebrated in Queen of Apostles Chapel on December 28, 2011 at 11:00 a.m. Father Emile Dumas was Principal Celebrant and homilist. Burial followed in Maryknoll Society Cemetery with Father Edward Dougherty conducting the graveside service.