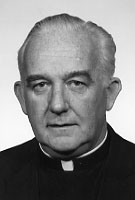 Father Bernard F. Ryan, MM
Born: January 17, 1920
Ordained: June 9, 1946
Died: March 16, 1981
Father Bernard F. Ryan died on Monday, March 16, at the Little Company of Mary Hospital, Chicago. Bernie was visiting his family in Chicago three months ago when he first developed health concerns. He apparently recovered well, and then gradually declined.
Born January 17, 1920, Bernie was one of three sons and a daughter born to Bernard F. Ryan and Catherine Guiltnane. Bernie related that the family moved south from the stockyards to 79th Street and east to the South Shore. While the Ryan houses changed even more over the years, the Ryan home was always warm and loving, a haven of which Bernie would later recall experienced the happiest days of his life.
At St. Barnabas Parochial School and St. Ignatius High, Bernie remembered mostly the fun of his friends and of sports, especially baseball, which he played (as he said) with more enthusiasm than ability. His greatest friends were Fr. Tim Hurley of St. Barnabas and Frs. Sammon and Gallagher, Jesuits of St. Ignatius. Through their example he entered Quigley Seminary in 1938 and passed the following year to St. Mary of the Lake Seminary in Mundelein. During his five years at St. Mary's, Bernie was exposed to talks by Maryknoll's Bishop Lane and Frs. Cassidy and Burns, all of whom were key in his mission vocation decision. Having completed his B.A. degree and Minor Orders at Mundelein, therefore, Bernie entered Maryknoll in September, 1943. He was ordained June 9, 1946 and made his Perpetual Oath on Oct. 23, 1947, while on his first mission assignment in Ecuador.
In the zeal and freedom of this first mission assignment, Bernie, like his Irish forebears, experienced an intense sense of presence, a man whose life was embraced on all sides by God. Both the daily round of tasks and the important celebrations of life in mission were all signs to him of the encompassing mystery of God. His mission career overseas spanned Ecuador, Peru, Chile and Bolivia from 1946 to 1963 when he was assigned to Development. His health failed most noticeably in 1968. He entered the Special Society Unit in 1977.
Bernie was waked at the Kennedy Brothers Funeral Home in Evergreen Park, Ill. A funeral Mass was celebrated in St. Thomas Moore Church, Chicago on March 19, after which the body was flown to Maryknoll, N.Y. where wake service was conducted by Father John Harringon. Mass of the Resurrection followed the next day with Father Al Schiavone as Principal Celebrant, and Father Larry Burns as Homilist; both classmates. Burial followed in the Maryknoll Cemetery.
It has been noted that the desire for exile among the great missioners from Ireland was primarily penetential and loving, the love of God being the motive. With the same motive Bernie, in his mission career, was an exile from family and friends; yet in an exile where he found people in need and answered them. In his sickness,which necessitated his later years be in the States, Bernie also experienced an exile, an exile from his missionlands. And yet, here too, Bernie was in mission through service and compassion.
My soul thirsts for God, the God of life;
When shall I go to see the face of God?…
Why so downcast, my soul; why do you sigh within me?
Put your hope in God; I shall praise Him yet, my savior, my God.
(Ps. 42)