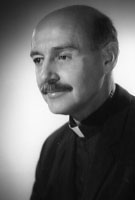 Father Douglas F. Venne, MM
Born: June 20, 1928
Ordained: June 13, 1959
Died: December 28, 2009
Father Douglas Venne died in Monipuripara, Bangladesh in the evening of December 28, 2009. Sisters Miriam Perlewitz and Joan Westhues, Brother John Beeching and Father Robert McCahill were with him. Father Venne was 81 years old and had just celebrated the 50th Jubilee of his ordination, June 13, 1959.
Douglas Frank Venne was born on June 20, 1928 in Racine, Wisconsin, son of Russell and Ruth Zenner Venne. He has four sisters and one brother, Father Tom who is a Diocesan priest in Milwaukee. His early schooling took place at St. Patrick Elementary School and St. Catherine High School, both under the care of the Racine Dominican Sisters to whom he accredits his vocation. Douglas received an Honorable Discharge from the United States Army Airborne in December 1947 and attended Loras College in Dubuque, Iowa. During those years he lettered in football, basketball and baseball. In his third year, his leg was broken in football, an incident that helped him to realize that there were more important things in life. During a college retreat in 1951 he decided to break off a budding marriage to join Maryknoll. However, he received notice from Maryknoll to continue on for his degree. He did not know it at the time but there was an arrangement between Father Daniel Coyne, Loras Athletic director, and Maryknoll to let him finish his sports eligibility. Father Coyne, in 1936, had regretted the loss of a great athlete in Father Gregory Keegan, MM to Maryknoll service. Douglas received a BS Degree in Chemistry/Math in 1952. Two weeks after graduation he was studying First Year Latin at the Venard, a Maryknoll Seminary near Scranton, PA. Father Venne was ordained on June 13, 1959 with 56 others and assigned to the Philippine Islands.
After language studies Father Venne assisted in parishes in Maniki, Baganga, where he mingled with the stevedores, and in Panabo. When Father Dennis Lally died, he became pastor in Caraga in East Mindanao, walking from house to house, inviting men to the Adoration Nocturna. What a surprise it was when 400 men showed up the first night. He was active in the Cursillo movement and in forming Basic Christian Communities. In 1965 he founded a parish in New Corella, Davao del Norte. Here he was happy with a dirt-floor church and a two-room convent that was built 10 years earlier. Early in 1968 Bishop Regan asked him to build a radio station in Tagum. However, in July of that year a dump truck hit his jeep. He fractured ribs, a knee cap and lost his left eye. Father Venne said it was a blessing because he was completely stymied at building a radio station. Maryknoll Fathers Howard Bieber and Thomas Mantica from Japan made it a success. Father Venne returned to the United States for cosmetic surgery and Development work for Maryknoll in the Minneapolis area. Returning to the Philippines in 1970 he found great satisfaction working to form Basic Christian Communities with local lay teams: women and men, married and single, paid and volunteers, a formula for big trouble. But the teams lived their own message. He called it a miracle and remained one of the great joys of his life.
In January 1975 the Maryknoll General Council asked for volunteers for Bangladesh, and Father Venne jumped at the chance. He had always admired Blessed Charles de Foucauld who went to live among Muslims and preached mostly by example. 'Cry the Gospel with your life.' Father Venne was accepted and arrived in Bangladesh on December 2, 1975 with 4 other Maryknollers. They went to live in community with a simple, prayerful lifestyle, while dwelling among and working with poor Muslims and Hindus. At first Father Venne did simple, manual farm work with other skilled farm hands. By 1986 the community had dwindled to Father Robert McCahill and himself. Father Venne found himself invited to live with a Muslim family in the village of Pouli in Tangail district, a desire he had nurtured since entering Maryknoll. He jumped at the opportunity, and except for 4 years of Development work at the Maryknoll House in Detroit, he had lived among these villagers in a bamboo house with a dirt floor and tin roof where he did his own cooking and house care.
In recent years, Father Venne no longer did much farm work but he taught Muslim farmwomen how to read and write their own language. He had a trunk of simple medicines, to give to the sick that come to his door. But if you asked him, his main work was prayer. In his hut was a prayer comer where he celebrated the Eucharist daily along with the Prayer of the Church, trying to be faithful with an hour before Jesus in the Blessed Sacrament. Muslims understand this; they pray 5 times a day. Hearing their 5 calls, Fr. Venne prayed, 'Father, thy Kingdom come.'
Father Venne believed in the written word and so carried on a correspondence with a good number of people that they too may understand and share in his joy and work in the mission of the Holy Trinity through the Church.
Father Douglas Venne's body was brought 80 miles north of Dhaka the morning of 29 December, and from 12 noon to 5 p.m. there was a wake service both at the Poor Clare's St. Michael's Adoration Monastery, Mymensingh and at St. Patrick's Cathedral, Mymensingh. Mymensingh Bishop Ponen Paul Kubi, CSC was Principal celebrant at a concelebrated Requiem Mass (in Bengali), where Father Robert McCahill read Father Venne's biography and Father William McIntire read the Perpetual Oath. There were 12 other Priests concelebrants for this Mass. Numerous Sisters, Taize Brothers, and groups from the L'Arche Communities in Mymensingh, as well as Muslim men from the Pouli, Rosulpur, Tangail village, where Father Venne had lived for so many years, were present and gave moving witness as to how Father Venne had lived out the Beatitudes. Burial followed in the new Priests' Cemetery, to the right side of the Bishop's House in Mymensingh. A Memorial Mass was held at Maryknoll, New York on Thursday, January 7, 2010 at 11:00 a.m. at Queen of Apostles Chapel. Father Edward Dougherty concelebrated with Father Venne's brother, Rev. R. Thomas Venne, and the homilist was Father James O'Donnell.