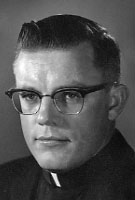 Father George M. Mikolajczyk, MM
Born: May 31, 1926
Ordained: June 11, 1955
Died: September 29, 2008
Father George Mikolajczyk died at St. Teresa's Residence, Maryknoll, New York on September 29, 2008. He was 82 years old and a Maryknoll priest for 53 years.
George Michael Mikolajczyk was born on May 31, 1926 in Riverhead, New York, the son of Martin C. and Mary Balser Mikolajczyk. He came from a family of ten boys and one girl and attended and graduated from Riverhead Public Schools. While in school his mother developed an alternate surname (Mickaliger) at the request of those teachers who could not handle the Slavic sounds. He joined Maryknoll in January 1945, and obtained both Bachelors and Masters degrees from Maryknoll.
Father Mikolajczyk was ordained on June 11, 1955, and assigned to Maswa-Shinyanga Diocese in Tanzania, then under the White Fathers Society. After language study, he was made Pastor of Holy Cross Parish in Kilulu, a mission bordering the Serengeti. His next assignment was to both teach and handle the finances of the newly-built minor Seminary at Makoko, Musoma Diocese.
After two years he was assigned to serve as interdenominational Chaplain at Williamson Diamonds, Ltd., a large diamond mine in Shinyanga Diocese. In order to reside within the security area he was given the post of Social Director and Welfare Officer. A large number of people lived at the mine, both workers and families from every tribe in Tanzania. This work was interrupted when Father Mikolajczyk contracted a rare form of fungal meningitis while traveling to the U.S. for home leave. While recuperating, he served as Chaplain at Pius XII School, a Diocesan home for underprivileged children in Chester, New York. He then moved to the Parish of St. Columba, until the local Vicar, asked him to transfer to St. John the Evangelist, Goshen, New York, to replace a sick priest.
In 1991, during his vacation, Father Mikolajczyk studied the Eastern Liturgy in the Ukrainian Seminary in Stamford, Connecticut. He received faculties from the Diocese of Stamford and a rescript from the Congregation of Oriental Rites in Rome to say Mass in both the Latin and Eastern Rites. Bishop Losten of Stamford appointed him as Extraordinary Confessor for a group of semi-cloistered Nuns of the Order of St. Basil, for whom he also performed the Ukrainian Liturgy each week.
Father Mikolajczyk transferred to Holy Rosary Church in Greenwood Lake, New York in February 1996, living and working there until September of that year, when he moved to St. Christopher's Parish in Staten Island. He worked at St. Christopher's until May 1998 when he joined the Retirement Community and moved into St. Teresa's Residence.
Wake services were held at 4:30 p.m. on October 1, 2008 at St. Teresa's, and at 7:30 p.m. in Queen of Apostles Chapel at Maryknoll Center where Father Maurice Zerr officiated and Father Edward Killackey read the biography. Mass of Christian Burial was concelebrated in Queen of Apostles Chapel on October 2, 2008 at 11:00 a.m. Father James Gilligan was Principal Celebrant and Father Leo Kennedy homilist. Burial followed in Maryknoll Society Cemetery.