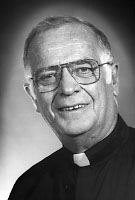 Father J. David Sullivan, MM
Born: March 24, 1933
Ordained: June 11, 1960
Died: December 22, 2012
Father James David Sullivan, M.M. died on December 22, 2012 at Phelps Memorial Hospital in Sleepy Hollow, New York.  He was 79 years old and a Maryknoll priest for 52 years. Â
Father Sullivan was born on March 24, 1933 in Indianapolis, Indiana, and was the third child born to Hugh and Josephine Gill Sullivan.  He had one sister and two brothers.  After graduating from Little Flower Grammar School in Indianapolis, he entered Maryknoll in September 1947 and was ordained on June 11, 1960.
After ordination, Father Sullivan was assigned to the United States to work in the Development Department in Chicago.  Six years later, he became the Director of the Denver House and in 1967 was appointed Regional Director in Chicago.  In August 1973, he was assigned to the Philippines. Â
Father Sullivan's first impression of the Philippine Region was that "the men have an excellent spirit, and this is evident from the work that is being done."  He worked in Maniki Parish after one year of language studies.  In 1975 he became Pastor of a very isolated parish in a high mountain valley in Davao Province (Tagum Diocese) called Maragusan.  He was nine years in Maragusan where he began a clinic and a Catholic school.  During those years, there was a lot of violence and bloodshed in the area due to the anti-government insurgency.  As a good pastor, Father Sullivan ministered to people on all sides.  In 1984, he went to a long-established parish in the Diocese of Tandag in northeastern Mindanao.  He remained in that Parish of Cantilan until his election as Regional Superior in 1998.  During those fourteen years in Cantilan, he had newly-ordained Diocesan clergy assigned to the parish every year.  He was a key person in that Diocese for instilling spiritual and pastoral values in the Diocesan clergy.
On establishment of the Extended Leadership Board in 1999, Father Sullivan was chosen by his leadership confreres in Asia as a member of the Board.  Father Sullivan served the Philippine Region on three different occasions as a member of the Regional Council and twice as the Assistant Regional Superior.  He was elected Regional Superior in 1998 and again in 2001.  His greatest challenge in his ministry in the Philippines was to make the local church self-sustaining, self-nourishing, and self-governing.
Father Sullivan said that the challenges facing the church in the Philippines today are to strengthen the small Christian communities amidst the problems of peace and order, economic issues, as well as building lay leadership programs and getting the local church involved in mission.  He said the local church in the States could learn much from lay involvement in the Philippines and also from the atmosphere of family life for vocations to the priesthood and religious life.  He wanted people to understand that to do mission brings openness and trust in the Lord. He said, "A great respect for the people you work with is gained as well as a sense of joy and peace."
In June 2005, Father Sullivan was assigned to the United States Region and appointed as Pastoral Care Coordinator for St. Teresa's Residence, where he was one of the Chaplains and visited the residents there until the time of his death.
Wake services were held at 4:30 p.m. on December 26, 2012 at St. Teresa's, and at 7:30 p.m. in Queen of Apostles Chapel at Maryknoll Center where Father Robert Depinet officiated and Brother Eugene Casper read the biography.  Mass of Christian Burial was concelebrated in Queen of Apostles Chapel on December 27, 2012 at 11:00 a.m.  Father Ralph Kroes was Principal Celebrant and homilist.  Burial followed in Maryknoll Society Cemetery with Father Paul Masson conducting the graveside service.
Each Maryknoll priest is requested to offer Mass for the repose of the soul of Father Sullivan; all Maryknollers are requested to remember him in their private and public prayers.