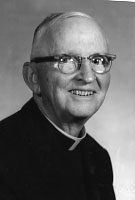 Father John M. Martin, MM
Born: February 13, 1896
Ordained: June 17, 1928
Died: July 13, 1985
Fr. John Moore Martin died on July 13th after many patient years at St. Teresa's Residence, Maryknoll, New York.
Father John was born in Milwaukee, Wisconsin on February 13, 1896. He entered Maryknoll in September of 1921 and was ordained June 17, 1928.
There are many words which could describe this man: caring, warm, affectionate, intelligent, holy, enthusiastic, friendly and humble. A young Maryknoll vocation candidate wrote: "The world today is so chock-full of man-made noises, it has become all but impossible to hear the tiny whispers of God. Of course, His Holy Spirit continues to push, urge, rebuke and challenge our inner hearts, but alas, we are so totally absorbed in fits and fevers of life, it is like listening for pins dropping in a thunderstorm. Yet, at times there is a breakthrough. Someone comes along who captures our attention long enough to make us realize, pause and reflect upon the ultimate meaning of all our fierce activity. Sometimes he may even provide a brief interlude where we can actually hear water lapping on distant shores and see the vague outlines of some new vision previously not even imagined as one that existed or at least was applicable to us. A priest-missioner, in love with God and the Maryknoll Society, and delighted to be in the presence of God's people, afraid of none, critical of none, but a challenge to everyone — such a man was Father John M. Martin, M.M."
Apart from a mission assignment in Mexico in 1942, and six years as Procurator in Rome, Father John dedicated almost all of his life to direct promotion and vocation work.
In 1927 he was awarded a Bachelor of Divinity and Theology Degree from the Maryknoll Seminary. In 1930 he received a Master of Arts Degree from St. Mary's Seminary, Baltimore, and on May 13, 1933 he wrote from Los Altos the following: "Dear Father General: This is to inform you that I received a Ph.D. from Santa Clara University this morning. With every best wish, Your son in Christ, John M. Martin"
Higher learning did not set him apart from his work with the humblest of the Indians in Tepic, Mexico, or his dealings with ordinary people as well as helping him to mix in all kinds of circles. He is noted to have had two major talents in his promotion work: he was a constant visitor to the Bishops and SPF Directors of dioceses where he worked and to other dioceses outside of his territory; he represented Maryknoll as a missionary community and rarely did he get personal publicity. Those who knew him well feel that Fr. John was among the best in this work.
Father John was a Navy veteran, having enlisted in the U.S. Navy during the first World War and stationed in the Great Lakes area. The war ended after he served one year and he was discharged. Later he became a Milwaukee newspaperman and managed an advertising agency for years with his brother James before entering Maryknoll. This experience helped him in later years as a Maryknoller. He was a prolific writer and contributed articles to many newspapers and journals over the years.
In 1973 he fell ill and afterward moved to St. Teresa's. He continued in many community-oriented activities and was always cheerfully ready to greet new visitors.
Fr. John tried to discern the beginnings of his missionary vocation. He said that he attended grammar school with two Chinese lads. Through them he became acquainted with the Chinese colony in Milwaukee, and one of them was converted to the Faith. John was given an issue of the "Field Afar" by a friend. He later subscribed to it and gradually found everything turning toward the foreign mission vocation. He requested admission and was accepted on August 31, 1921.
He was once asked about his early recollections of Maryknoll's co-Founder, James Anthony Walsh. He remembered that Father General used to say frequently, "Take a job seriously but never take yourself seriously." Father Martin seems to have put this into practice in his own life. His concern was to promote Maryknoll, the missionary vocation, and a greater devotion to Mary and the Blessed Eucharist. A great tribute from a former superior is the following: "John accepted his ministry and change of ministry much as Christ did. He worked until he gave his all. May he rest in peace."
The Wake Service was held on July 15th and the Funeral Mass the following day with Fr. Rafael Davila as main celebrant.
"O risen Lord, all praise to Thee, Who from our sins hast set us free, that we may live eternally. Amen. Alleluia!"