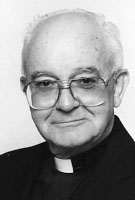 Father John R. King, MM
Born: October 30, 1925
Ordained: June 13, 1953
Died: October 25, 2012
Father John R. King died at St. Teresa's Residence, Maryknoll,  New York on October 25, 2012.  He was 86 years old and a Maryknoll priest for 59 years.
John Raymond King was born in St. Clair Shores, Michigan, on October 30, 1925, son of John Raymond and Ruth Millenbach King.  There were five girls and four boys in the family.  He attended St. Gertrude Grade and High School, graduating in June 1943.  John entered Maryknoll Apostolic College (Venard), Clarks Summit, Pennsylvania in September 1943.  He obtained his Bachelor of Arts degree in Philosophy in 1948 and was ordained a priest at Maryknoll Seminary in Ossining, New York on June 13, 1953.
After ordination, Father King was assigned to the Development Department, serving first in St. Louis. In 1954 he was assigned to the newly-opened Philadelphia House. In 1955 he became the Development Procurator at Maryknoll Center in New York, and in 1956 he was assigned for two years to the New York City House.  Father King became the Director of the Development House in Detroit, Michigan in 1958, where he served until he received his first mission assignment to the Maryknoll Mission Region in Guatemala in 1963.
Father King arrived at his mission assignment in Guatemala on July 22, 1963.  After language and cultural studies, he served as assistant pastor of the Cathedral Parish in Huehuetenango.  In September of 1965 he was appointed pastor of San Pedro Parish in Soloma.  He ministered to 25 villages which he visited every month on horseback.
Father King was called back to the United States in February 1970, to resume work in the Development Department.  He served as Regional Director of the Milwaukee House for one year, and on March 5, 1971 he was appointed Regional Director of Development in St. Louis, Missouri for a three-year term.
Father King returned to the Central America Region in October 1973 and was assigned for a short time to the Parish of Santa Lucia, Ilogango in El Salvador, helping in its transition back to the Archdiocese of San Salvador. While home for vacation in 1974 he participated in the Maryknoll Mission Renewal Program at Maryknoll, New York.  He returned to El Salvador and became pastor of Inmaculada Concepcion, an urban parish in Santa Tecla where his friendly and jovial spirit had a positive impact among the youth. At the request of his superiors, he was assigned to a very poor rural area where as pastor of the San Pablo Tachachico Parish he regularly visited 20 peasant Christian communities and is remembered for his home visiting and formation of the catechists. He participated faithfully in the local vicariate and the pastoral planning process of the Archdiocese. During his time there, Oscar Romero was named Archbishop, and soon after that, Father King's friend, the pastor of the neighboring parish, Father Rutilio Grande, was murdered.
In 1977 Father King was assigned to the Development Department and returned to the United States. He served for one year in Cleveland, then five years in the Detroit House. He was named the Director of the Development Department and took over that job on January 2, 1986.
In March 1987, Father King worked for a year as Director of the Development House in Florida, and in 1989 he became an Associate of the Gift Planning Office at Maryknoll. In November 1997 Father King retired and moved to Jacksonville, Florida. In October 1999 he entered the Retirement Community with residence at Maryknoll, New York.
Father King often served as a chaplain aboard cruise ships, ministering to the crew and passengers and visiting many different countries. It was on these trips that he developed his passion and skill for photography, and embraced a new mission to reflect the beauty of the world through photographs. He was famous for his 'King's Corner' of photographs, displayed in a wing of the Maryknoll Center building, which celebrated the people, places and things he encountered, often with his characteristic humor and joy. Although ill health eventually prevented him from serving on cruise ships, Father King was always happy to share stories of his travels and his mission work and continued to take and display photographs.
Wake services were held at 4:30 p.m. on October 29, 2012 at St. Teresa's, with Father Emile Dumas officiating, and at 7:30 p.m. in Queen of Apostles Chapel at Maryknoll Center where Brother John Blazo officiated and Father Robert Jalbert read the biography. Mass of Christian Burial was concelebrated in Queen of Apostles Chapel on October 30, 2012 at 11:00 a.m. Father Michael Zunno, M.M. was Principal Celebrant and homilist. Burial followed in Maryknoll Society Cemetery with Father Edward Dougherty conducting the graveside service.
Each Maryknoll priest is requested to offer Mass for the repose of the soul of Father King; all Maryknollers are requested to remember him in their private and public prayers.