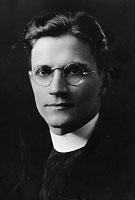 Father Louis F. Smith, MM
Born: November 2, 1907
Ordained: June 5, 1932
Died: March 25, 1993
Father Louis F. Smith died about 7:30 a.m. at Phelps Memorial Hospital on Thursday, March 25, 1993. He was 86 years old and Maryknoll priest for nearly 60 years.
Louis was born on November 2, 1907, in Tiffin, Ohio, son of Louis A. and Mary Smith. In his deeply religious family he had three brothers and nine sisters, of whom one became Maryknoll Sister Dorothea who served in Hawaii, one a Sister of Mercy in Cincinnati, and two became Ursuline Nuns in Toledo. He attended public grammar school near his home. As a first year high school student he entered Maryknoll Apostolic College (Venard), Clarks Summit, Pennsylvania on September 12, 1921. He was assigned in September 1927 to Collegio Maryknoll in Rome, Italy, where he continued his studies in philosophy and theology at the St. Thomas Aquinas University (Angelicum). For health reasons, however, he returned to Maryknoll Seminary in New York in November 1930 and was ordained a priest on June 5, 1932.
Father Smith served his entire priestly ministry as a teacher in the field of seminary education. Each summer for many years he would study at various universities to improve his teaching qualifications and ability. After ordination he was assigned to the faculty at the Venard where he taught Latin, Greek and French to the seminarians for five years. During those years he obtained a Master of Arts degree in Education at St. Thomas College, Scranton, Pennsylvania. During the school year of 1938-1939 he taught Latin and European history at Maryknoll's newly opened junior seminary in Akron, Ohio.
During the summer of 1938 Father Smith took courses at Cornell University, Ithaca, New York, and later at Saint Bonaventure University, Olean, New York, in physics, chemistry and mathematics. In September he returned to the Venard, now a four year college seminary, to teach general mathematics for Freshman, an Introductory Course in Astronomy and a Survey Course in Physical Geology for Sophomores, as well as a course in the works of the Latin Fathers of the early Church for the Seniors. He also served as Librarian and Prefect of studies for four years.
On August 24, 1942, Father Smith was assigned to the new Maryknoll Junior Seminary in Cincinnati, Ohio, to teach French language and literature at the Archdiocesan St. Gregory Seminary where Maryknoll students were enrolled. For a time he also gave courses in Second Year of Classical Greek for high school and college students, as well as an Elementary Course in New Testament Greek for a limited number of college students. During the summer months of 1943-1949, Father Smith enrolled at Laval University in Quebec City, Canada, where he obtained a Master of Arts degree in French in 1949. When not occupied with his own summer graduate studies he taught at Maryknoll's Latin Summer School, first at the Venard and later at Maryknoll College, Glen Ellyn, Illinois. He was a member of the Board of Directors of Alliance Francaise of Cincinnati for many years and served as President for one term and then Vice President for another term.
In addition to his duties as Associate Professor at Saint Gregory Seminary, Father Smith was called upon for parish weekend ministry and served as daily Mass chaplain for the Sisters of Saint Joseph in their nearby Convent at McNicholas High School.
Beginning in 1953, to meet professional requirements, he spent a number of summers seeking academic certification. In 1953 Father Smith obtained a Certificate of French Pronunciation at the Institut de Phonetiquc in the University of Paris, France. In the summer of 1960 he attended a Workshop on Teaching Foreign Lanugages at the Catholic University of America, Washington, D.C. During the summer months of 1963, 1968 and 1972, he completed summer courses in French Literature and French Civilization at the Institut Catholique, and Advanced French at the Sorbonne University in Paris.
In 1970 all college classes at St. Gregory's Seminary were suppressed and the school of theology at Mount Saint Mary's of the West moved from Norwood, Ohio into the now vacant St. Gregory Seminary buildings. Father Smith remained in residence with chaplaincy duties of daily Mass at the nearby convent of the Sisters of St. Joseph and Sunday Mass at old Saint Rose Parish Church.
On September 29, 1986, at the age of seventy-nine, Father Smith's failing health prompted his retirement to St. Teresa's Residence at Maryknoll, New York. He was admitted to the Intensive Care Unit of Phelps Memorial Hospital on Thursday, March 18, 1993.
Wake services at St. Teresa's Residence Chapel and Queen of Apostles Chapel at the Center, Monday, March 29. Concelebrated Mass of Christian Burial offered in Queen of Apostles Chapel Tuesday, March 30, 1993. Interment in the Maryknoll Center Cemetery.