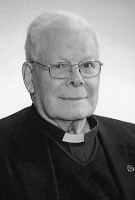 Father Robert R. Zahn, MM
Born: September 7, 1921
Entered: June 11, 1955
Died: December 23, 2013
Father Robert R. Zahn died on December 23, 2013 at St. Teresa's Residence. He was 92 years old and a Maryknoll priest for 58 years.
Robert Roy Zahn was born September 7, 1921, in Mandan, North Dakota. The son of Louis J. and Elizabeth Dehm Zahn, he was the youngest of a family of five girls and three boys. He attended St. Joseph's parochial grade school and graduated in 1939 from Mandan High School. He received a B.A. in Chemistry from the University of Montana in Missoula, in 1943.
Father Zahn served in the U.S. Army from 1943 through 1946. From 1945 he served as an Army officer in the occupation forces in Japan. Obtaining his discharge from the Army, he continued to work in Japan as a civilian employee of the government until he left Japan in December 1948 to enter Maryknoll in January 1949.
After his ordination on June 11, 1955, Father Zahn was assigned to Japan. His first assignment, after completing two years of Japanese language study, was as Assistant Pastor of the parish in Matsuzaka in Mie Prefecture. After a brief period as Econome for the Maryknoll Japan Region and the Kyoto Diocese, he was recalled in 1961 to work in the Promotion Department at Maryknoll, New York, as Director of the Lay Personnel Office. In 1963 he was appointed Director of Publications and Assistant Director of the Cultivation Department. In 1966 Father Zahn returned to Japan and was assigned as Pastor of the Matsuzaka parish.
Father Zahn has spent his entire missionary career in Japan. In 1967, he was appointed First Consultor to the Japan Regional Superior. His assignments in Japan included work in Yokkaichi, Mie Prefecture, as Administrator of Our Lady's Home, a residential institution for mentally retarded children and as Vice-principal of the attached special-ed school for exceptional children. In 1978, while continuing in these two assignments, he established the Tokiwa House, a residence for mildly retarded working young men. In 1979 he was named Principal of the special education school.
In 1980, Father Zahn was elected Third Assistant to the Regional Superior. In 1983, he was assigned as Pastor of the Ise Parish in Mie Prefecture and in 1993 he was also assigned as Pastor of the Owase parish. While Pastor of both of these parishes, he was Director of Tokiwa House.  Father Zahn worked in the Matsuzaka parish and together with a priest from another Parish; he was responsible for what was formerly a separate parish in Owase City, two hours from Matsuzaka. He returned to the United States to celebrate his 50th Jubilee and remained at Maryknoll, New York, taking up residence in St. Teresa's.
Wake services were held at 4:30 p.m. on January 2, 2014 at St. Teresa's, and at 7:30 p.m. in Queen of Apostles Chapel at Maryknoll Center where Brother Thomas Hickey presided and Brother Raymond Tetrault read the biography. Mass of Christian Burial was concelebrated in Queen of Apostles Chapel on January 3, 2014 at 11:00 a.m. Father Emile Dumas was Principal Celebrant and homilist. Burial followed in Maryknoll Society Cemetery.