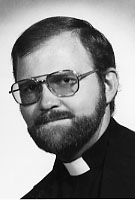 Father Thomas P. O'Connor, MM
Born: July 13, 1952
Ordained: May 16, 1981
Died: October 6, 1986
Word was received from the Director of Dialogue Center International at the University of Aarhaus, Denmark, where Fr. O'Connor was working, that he had died on October 6, 1986.
The Response for the Mass of that day was: "The Almighty has done great things for me and holy is His Name." His five years of missionary priesthood were a testimony of God's working through him as he journeyed through life. Tom saw his life as a continual spiritual pilgrimage to God, as he once wrote: "My own spiritual pilgrimage has taken me through many experiences of God and brought me into association with many holy people. I would say at this time that my life continues to be a pilgrimage to God and to the world with the Gospels as my guide. All things are a part of this adventure."
Thomas P. O'Connor was born in Hartford, Connecticut on July 13th, 1952. His family moved to Littleton, Colorado four years later and this was home for him. In 1968 he was accepted for study at Chesterfield. When that school closed he returned to Denver to finish high school and a while later entered Glen Ellyn. Since Glen Ellyn was also closed he continued his studies at Temple University, majoring in Anthropology. During his 3 years there he was quite active in student affairs. He received two prestigious awards, the Liberal Arts Alumni Service Award and the Sol Feinstone Award for Leadership Merit. Reflecting on these events, Tom wrote: "All of this seems to skirt what I must say is the major thrust of my life and that is my desire to do Christian mission through the Maryknoll Society." His first contact with Maryknoll came from Fr. James Keller's Christopher Notes which were a part of the daily readings his parents used in the religious formation of the children.
Tom was ordained on May 16, 1981 and sent to work in Japan where he had spent some years previously in overseas training. When asked why he wanted to go to Japan, he wrote: "I am intent upon living with a society that has a commitment to the Christian missionary task of announcing and witnessing the Gospel. Through my commitment to Maryknoll I hope to live with a community that demonstrates the transformational power of faith in Jesus Christ. This real and powerful transformation is both personal and social, and includes aspects of both active evangelization and Christian presence in a non-Christian world." He was a diligent missioner. He was anxious to learn more and more about the people, their culture and religion and everything around him. He once said: "If our God is a God of History, then it is the history of this place and its people, the history which occurs each day, in which our God is visible. If we sing of His will occurring on earth, it is this earth, here and now."
After five years in Japan, the President of the Dialogue Center International at the University of Aarhus, Denmark, wrote to Tom and requested that he work at the university to eventually editor of their international publication Update. Tom was given a two-year assignment and was enthused over the opportunity to work there. He saw in it a part of Maryknoll's vision to be in dialogue with the world religions. On June 29th he wrote to the Superior General: "Greetings and best wishes on Foundation Day from Denmark. It seems appropriate for the history of our Society to have another man in a new country without a word of the language and no idea to even ask for a bus ticket, to mark our glorious seventy-five years." Each day he became more involved in his work. In one of his letters he said: "I have spoken about our hope within Maryknoll to better coordinate dialogue efforts and the study of the theology of dialogue and religions. This has been well received because there is a well-known Maryknoll that possesses a wealth of individual experience, not only in the religions of many countries but also in political-social situations."
At the cathedral in Kyoto, Bishop Raymond Tanaka was principal celebrant for a funeral Mass, and at Maryknoll Center a memorial Mass was celebrated on October 21, with Fr. Raymond Nobiletti as principal celebrant and Fr. Arthur Dwyer, Homilist. May the Lord bless Tom for his faithful service and may he rest in peace.