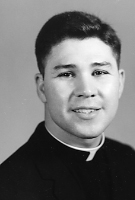 Father Thomas R. Amarillas, MM
Born: July 30, 1939
Ordained: June 8, 1968
Died: June 1, 2004
Father Thomas Amarillas died in a car accident in the Peten, Guatemala on June 1, 2004. He was 64 years old and a Maryknoll priest for 35 years.
Thomas Robert Amarillas was born on July 30, 1939 in Tucson, Arizona, son of Robert and Rosa Amarillas. He has two brothers and one sister. His primary education took place in the Carrillo public schools; and he spent two years at Safford Junior High and two years at Tucson High School and graduated from Salpointe Catholic High School in June 1959. He entered Maryknoll College, Glen Ellyn, Illinois, on September 4, 1959, and received his Bachelor of Arts degree in Philosophy in June 1963. He was ordained a priest at Maryknoll Seminary in Ossining, New York on June 8, 1968.
After ordination, Father Amarillas was assigned to the Maryknoll Central America Mission Region. After language and cultural studies at the Maryknoll Language School in Cochabamba, Bolivia, he became the Assistant Pastor of Parroquia La Navidad in Santa Ana, El Salvador. In the summer of 1970 he received a Certificate for studies in cultural anthropology at the University of San Carlos. In 1972 he received a Certificate for three months study in linguistic studies at the Universidad del Valle and in 1973 he received a Certificate for a course in linguistics at CELAM Center in Manizales, Colombia.
Father Amarillas participated in the Maryknoll Mission Renewal Program at Maryknoll, New York, in the Spring of 1979; followed by a summer course at the Mexican-American Cultural Center (MACC) in San Antonio, Texas. This course of studies concentrated on the documents of Vatican Council II, the Medellin Conference, Puebla Conference, and cultural awareness with special attention given to the Mexican American scene and history.
On September 1, 1979 Father Amarillas began a three-year assignment to the Development House in Los Angeles to assist in vocation recruitment. He was reassigned to the Central America Mission Region on October 1, 1982 and appointed Pastor of the Church in Choloma, Diocese of San Pedro Sula, Honduras. In 1984, he participated in a Pastoral Counseling course at Mount St. Mary's College, Los Angeles, California.
On June 18, 1990, Father Amarillas was recalled to the United States Region and assigned to the Vocation Office for a three-year term as a Vocation Minister in the Los Angeles Development House. During that term he took summer courses in Pastoral Counseling and participated in Maryknoll's Spiritual Renewal Program.
Father Amarillas was assigned once again to the Central American Mission Region effective December 1, 1992. For many years, he worked in El Salvador as a marriage counselor with the family pastoral department in the Archdiocese of San Salvador. In 1999, Father Amarillas began working in the Peten. People who worked with him knew him as a likable, charismatic man and one who gave a high priority to friendship. He was adaptable to any situation, even if trying. He was also a lover of all kinds of animals and plants. He always talked lovingly of his family back in Arizona and he helped many poor families rebuild their ramshackle homes after a hurricane swept through the Peten area three years ago.
On June 2, 2004, hundreds of people spilled out into the street and packed the Church for Mass for Father Amarillas in San Luis Peten celebrated by his bishop Oscar Julio Vian and members of the Peten vicariate clergy. Father William Mullan, MM crossed two swollen, dangerous rivers to get back from a Kekchi village visit and was present for the farewell. His body was then transferred to Guatemala City and from there was sent to Tucson, Arizona for burial. On June 7, 2004 Mass of Christian Burial was celebrated at St. Augustine's Cathedral in Tucson. Father William Donnelly, MM was Principal Celebrant and Father Donnelly and Father John Ruessmann, MM spoke about Father Amarillas, as well as retired Bishop Francis Quinn of Tucson. Bishop Quinn conducted the graveside service as Father Amarillas was buried in Tucson.