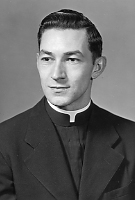 Father W. James Boglarsky, MM
Born: May 13, 1923
Ordained: June 11, 1949
Died: November 22, 1973
Father W. James Boglarsky died on November 22 while serving as chaplain on the Norwegian-registry ship Sea Venture in the Atlantic out of New York. He died peacefully about 11 p.m. Jim had been a resident of St. Teresa's since July, 1971 but recently had been helping out in parishes in the New York area. Several people who were on the ship with him spoke highly of him.
Father Boglarsky was born in Detroit, Michigan on May 13, 1923. He studied in the Nativity of Our Lord Parochial School and spent his high school years and his first year of college at Sacred Heart Seminary in Detroit. He joined Maryknoll in 1941, studied at the Venard, Bedford and Maryknoll, and was ordained with the class of 1949. Assigned to the Hawaii Region in 1949, he returned to Detroit on furlough in 1956, and received a Bachelor's Degree in History and in Education from Sacred Heart Seminary and the University of Detroit. He was assigned to the Japan Region from 1958 to 1963, largely in teaching work. He was reassigned to the Hawaii Region in 1963, returned to the States on sick leave in early 1971, and briefly served in the Development Department in 1971.
These recent years had been difficult ones for Jim. He had previous health problems but he seemed in fairly good health and spirits of late, and enjoyed his assignments to various parishes. He visited St. Teresa's last Saturday, Nov. 17, and was looking forward very much to serving as chaplain on the cruise.
A vigil service was held for Fr. Boglarsky on Monday evening, November 26th, at the Maryknoll chapel. Mass of the resurrection was concelebrated the following day with Father Boglarsky's 1949 classmate Fr. Fidelis Goodman as Homilist. Burial followed in the Maryknoll Cemetery.