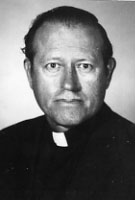 Father Walter W. Winrich, MM
Born: February 24, 1921
Ordained: June 10, 1950
Died: January 12, 2006
Father Walter Winrich died on January 12, 2006 at St. Teresa's Residence, Maryknoll, New York. He was 84 years old and a Maryknoll priest for 55 years.
Walter William Winrich, one of three children born to Henry Winrich and Emma Bonnin, was born on February 24, 1921 in Raymond, Washington. His mothers youngest sister, Rita, was a Maryknoll Sister who served in the Philippines, Bolivia, and Korea. Following graduation from Raymond Public High School, he entered Maryknoll Junior Seminary in Akron, Ohio, on September 10, 1940. He received his Bachelor of Arts degree in Philosophy at Maryknoll Seminary, New York, and was ordained a Maryknoll priest on June 10, 1950.
After ordination Father Winrich was assigned to the Maryknoll mission in Mexico, and dedicated his entire missionary priesthood – almost exclusively – to the Mayan Indians of the Yucatan Peninsula of Mexico. After language school he served as assistant pastor in Cozumel and in 1952 he was appointed pastor of the Tzucacab Parish where he developed progressive lay organizations which built up the outstations of the mission. In 1956 he was appointed assistant pastor of San Sebastian Parish in Merida and then appointed pastor in 1958. While there he helped to start the first AA Group in Mexico, as well as the Legion of Mary which grew to be the largest lay group in Mexico. In late 1958, he moved to Yaxcaba where he was the first priest to serve there in 117 years. Father Winrich became the assistant pastor in Peto in 1961 and in 1963 he moved to Tihosuco, Quintana Roo, after which he again returned to the Tzucacab parish for one year.
In 1965 he was transferred to Mexico City as pastor of Santa Maria, Madre de la Iglesia. In a short time Father Winrich secured land and began building up the church compound on the Main Plaza. Father Winrich had great rapport with the people and served them for three years. He helped to start the Catequesis Familiar, a family catechetical program now active in many parts of the world; and the Misioneros de la Palabra de Dios, youths who volunteer for a year of service to the Church. He helped to build one of the worlds largest crosses on top of a mountain the middle of the Yucatan Peninsula and was involved in the construction of four churches and four parish halls in a matter of six years. He also helped the first group of Guatemalan refugees who arrive by train in Campeche with absolutely nothing.
In July 1979 he was recalled to the United States for Development and worked in the Metairie, Louisiana and Seattle, Washington Development Houses. He returned to Mexico in January 1983 and was assigned to Dzibalchen, Campeche where he labored for 13 years, working zealously among the thousands of refugees in Campeche, near the Guatemala border. Father Winrich was instrumental in bringing the first missionary image of Our Lady of Guadalupe to the USA, introducing the image at the first International Rosary Congress on June 16, 1991 at the Shrine of the Immaculate Conception in Washington, DC. In August 1996 he was assigned to Maryknolls Retirement Community and lived in the Maryknoll Residence, Los Altos, California until coming to Mission St. Teresa in August 2003. Father Winrich finished working on his book, "All for the Glory of God: The Hidden Treasures of a Missionary Priest" and had it published in 1997.
Wake services were held at 4:30 p.m. on January 16, 2006 at St. Teresa's, and at 7:30 p.m. in Queen of Apostles Chapel at Maryknoll Center where Father Joseph McGahren officiated and Brother John Blazo read the biography. A Funeral Mass was concelebrated in Queen of Apostles Chapel on January 17, 2006 at 11:00 a.m. Father J. Ernest Brunelle was Principal Celebrant and homilist.
In accordance with Father Winrich's request, his body was then flown to California for internment. At the Maryknoll Residence, Los Altos, California, a wake service was held on January 19, 2006, led by Father Philip Sheerin. A Funeral Mass was concelebrated on January 20, 2006 at 11 a.m. The Principal Celebrant was Father Joseph Nerino, a classmate of Father Winrich. Brother Duane Crockett led the burial service at the Los Altos Residence cemetery immediately following the Mass.