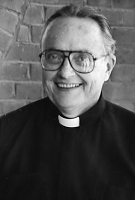 Father Michael J. Bransfield, MM
Born: August 11, 1929
Ordained: June 13, 1959
Died: November 14, 1989
Father Michael J. Bransfield died on November 14, 1989 in St. Mar's Hospital, Kang Nam, Seoul, Korea. He was 60 years of age and a Maryknoll priest for 30 years.
Michael James Bransfield was born into a devout Catholic family in Chicago, IL on August 11, 1929. He had two brothers and two sisters. He attended the University of Illinois for a year and was graduated from Notre Dame in 1951 with a B.S. degree in Commerce. He worked as a lumber salesman for a year after college and served in the Navy before entering Maryknoll in 1952. All through his studies he was rated academically very high in his classes. He was ordained on June 13, 1959. Asked how he became attracted to Maryknoll, he wrote: "I first became acquainted with the Maryknollers through seeing pictures of Maryknoll priests who had been beaten and tortured by the Chinese Reds. The pictures made one think about life and its purpose. Seeing a Maryknoll bulletin about the group I wrote for more information which, after reading, convinced me that this was the family God wanted me to enter."
After ordination Father Bransfield was assigned to Korea. After language school he was assigned to Inchon and served as assistant Pastor for a year in the large city parish of Song Rim Dong. Learning the language quickly and well, he was appointed Pastor of Kim Po, covering all of the Kim Po Peninsula bordering the Yellow Sea to the West and North Korea to the North. While pastor there he worked to develop the outstations, developing one section (Tong Jin) to the extent that it became a parish by the time Mike left the parish in 1965. He baptized hundreds of people each year in this five-year period. He saw the plight of the poor farmers in this area and one of his more remarkable works was to organize a land reclamation project which covered 900 acres of land from the Yellow Sea mud flats where the tidal flow was 38 feet every 12 hours. This recovered land provided excellent rice land for 170 families.
In 1966 Father Mike was transferred to the island parish of Kang Hoa. This parish consisted of 17 outstations, most of which were on islands to the west of Kang Hoa. Along with his intense parish development work he pursued his effective interest in agriculture. Along with this, through cooperation with the Protestant Heifer Project, he established a highly successful animal husbandry project which was eventually to have profound influence on pig raising all over Korea. He introduced Swedish Landrace pigs to Korea and today this fast-growing and prolific breed predominates in Korea.
During his six years as pastor of Kang Hoa, Father Bransfield also became interested in the dire labor conditions of young women factory workers of the area. He sponsored union activity in the several factories of Kang Hoa and spent years of struggle alongside of the young workers for more humane conditions and more just wages.
While on furlough and sick leave in 1970, he was assigned to the Milwaukee Development House as Regional Director and Local Superior, serving successfully there for three years. Several times during his 27 years in Korea Mike served as Consultor for the Regional Council. In 1973 he returned to Korea. Because of his experience with factory working conditions he was asked by the National Assembly of Korean Bishops to take over the sensitive role of Chaplain and Director of the Young Christian Worker Movement for all Korea. Father Mike worked tirelessly to develop the Movement for the next six years from 1973 to 1979.
In 1981 Father was once again assigned to the Inchon Diocese and was asked by Bishop McNaughton to establish a new parish in the tough area of Yeon An Docks. For several years he worked out of a warehouse rented for a chapel and meeting place, and lived in a small apartment which doubled as a parish center. Eventually he and his people completed a beautiful church and named it Our Lady of the Sea. Here he was pastor until he died.
Less well-known but of extensive influence in his work over the years was his authorship of unique books of instruction in the essential teachings of the Bible and the Church. Through a remarkable combination of paintings and text, he was able to offer a powerful presentation of the Christian message of hope and faith to thousands of people of every educational background.
His superior wrote: "Michael died during the 5th decade of the Glorious Mysteries of the Rosary which was being prayed for him by the priests and sisters present… We have lost a great missioner, a holy priest and a true Maryknoller."
Wake services were conducted by Bishop William McNaughton in Our Lady of the Sea Church. Mass of Christian Burial was offered by Maryknollers and Korean clergy in the Inchon Cathedral and interment took place in the Diocesan cemetery, where two other Maryknollers are buried. A Memorial Mass was offered at Maryknoll Center on November 17 with Father John Corcoran as principal celebrant and Father Michael Duggan as Homilist.