"I've had the notion to be a doctor on the missions since I was three feet high," Harry P. Blaber told surprised and delighted Maryknollers when, in 1930, he offered five years of service to the missions. A graduate of St. Francis College in Brooklyn and the Long Island College of Medicine, the physician from Brooklyn, NY was accepted and sent to Kongmoon, China to become Maryknoll's pioneer lay missioner.
In Kongmoon, Dr. Blaber studied language with Father Otto Rauschenbach, who found him a "capable, commonsense, energetic man." He also opened the Tung On dispensary in a small house that he partitioned into consultation room, clinic, surgery, pharmacy, laboratory and six-bed ward. His patients, who soon began to call him "the doctor of a thousand cures," lined up in the street at the rate of over 50 per day. A 15-year-old named Kei Shaang stayed to become his first nurse.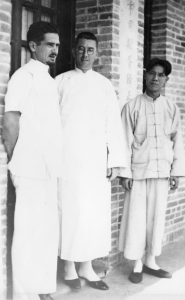 "He began to organize the hospital with a sufficiency of nothing, save trust in Providence and confidence in Blaber," Bishop James E. Walsh reported in The Field Afar. Dr. Blaber displayed his accuity for innovation from the beginning of his mission service. When Maryknoll built Sacred Heart Hospital in Toi Shaan, Dr. Blaber hauled a junked operating table from Canton, lighted the surgery with two electric bulbs plus nurse-held flashlights, and sterilized intruments with a Montgomery Ward fireless cooker.
Harry was innovative with people, too. Starting with a staff of three farmhands, he gathered and trained nurses, a pharmacist, and a budding bacteriologist. With the hospital equipped and the staff professional, patients could be charged fees – about two cents a visit. In the meantime, Maryknollers had located three groups of destitute victims of Hansen's Disease and Dr. Blaber began to spend his Sundays helping them. This work eventually expanded into the 500-bed Gate of Heaven Leper Colony.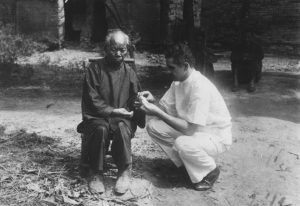 In 1935, as agreed, Dr. Blaber went home to Brooklyn, where he met and married Constance White, a nurse. They spent their honeymoon studying leprosy treatment at Molokai, Hawaii, and returned to Kongmoon in 1936. Two years later, however, war forced them to return to the US.
"We lived through some mighty tough days in China," Harry recalled shortly before his death in 1961. "We tried to run a hospital with Mercurochrome and homemade bandages – but they were satisfying days."
Adapted from a story by Pat Logan for Maryknoll, March 1983, p.40-41