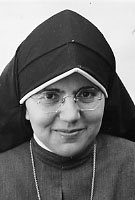 Sister Frances Venard Lotito, MM
Born: May 26, 1916
Entered: September 7, 1943
Died: April 8, 2003
We gather this morning to remember and celebrate the life of our Sister Frances Venard Lotito.
Sister Frances Venard died peacefully on Tuesday morning, April 8, 2003, in our Residential Care Facility at Maryknoll, New York. She was eighty-six years old and had been a Maryknoll Sister for sixty years.
Rose Marie Lotito was born in Astoria, Long Island, New York, on May 26, 1916, a daughter of Vincenzo Lotito and Raffaella Fortunata Lotito, both of whom were born in Italy. She had one brother, Valentino, and two sisters, Rita and Sylvia.
Rose Marie graduated from Julia Richman High School in New York City in 1934. Before entering Maryknoll on September 7, 1943, she had studied accounting and applied arts and worked as an accountant. She made her First Profession on March 7, 1946, and received the name Sr. Frances Venard. She made her Final Profession on the same date in 1949, both at Maryknoll, New York. During those years, she applied her artistic talent in the Chi Rho Arts Department and used her accounting skills in The Field Afar bookkeeping department.
Sister Frances Venard was an artist; she devoted her life to art. She wrote about her attraction to nature, to the poetic, to symbols and images. In 1993, the year of her Golden Jubilee, Sister wrote: "I entered Maryknoll in 1943. Along with religious studies, training and my lifetime gift of artistic talent, the mid-forties became a period of personal enrichment and enchantment through my work on religious symbols as a language of art…It was a much valued preparation for some of the Hong Kong assignments after 1950…Immersed in creating religious art…is sometimes hard work. Sometimes it is like meeting an old friend…Despite the sometime problems and frustrations involved in the work, it has been a time of enrichment. Presently back at our Maryknoll Center, parceling time for prayer, work, and other purposes, has made it difficult to maintain the momentum of the past. Sometimes it seems to be a period of waiting…When dreams become a reality, there is cause to rejoice!"
Sister Frances Venard worked in Hong Kong for seventeen years. In the fifties, during the height of the refugee migration from China, she designed vestments, the manufacture and sale of which provided work in a safe environment for refugee women and a source of income to support the works of the Maryknoll Sisters. She created chapel furniture and instructed others in drawing, needlecraft, painting, art restoration and photography.
Beginning in 1967, Sister pursued studies in Fine Arts at the San Francisco Art Institute. A newspaper article at that time entitled, "A Portrait of an Artist" described her work in San Francisco. I quote: "Sister Frances Venard, who is currently exhibiting her paintings, graphics and ceramics at the Moore Galleries in San Francisco, is an active and serious artist. Art work which she has completed here in the Bay Area consists mainly of local views – detailed etchings of the City of San Francisco, oils of Bay Area scenes and ceramics…Some of her most interesting work consists of detailed etchings of flowers and leaves which are exquisitely executed."
Sister earned a B.A. in Fine Arts in 1972 and an M.A. in Art History in 1977 from Pennsylvania State University. She remained at Penn State until 1990. She prepared a variety of exhibitions and programs and in 1983, directed an original production in song, dance and drama of Francis Thompson's poem, "The Hound of Heaven." The production was dedicated to Mother Mary Joseph. These years at Penn State were a highlight of her life. It was a time when she felt her artistic talents were recognized and utilized. Sister was loyal to her Alma Mater, spoke of those years and kept in touch with friends there.
In 1990, Sr. Frances Venard returned to Maryknoll, New York. Her days were occupied with projects that she was trying to complete. From her art room and her bedroom, Sister was busy restoring art pieces, repairing and reframing pictures, embroidering. There was always more work than she had time for. She was known for her card gifts — a combination of her photography and poetry. She shared her art freely and joyfully and we are grateful to her.
We welcome our celebrant, Maryknoll Father Francis Diffley.
I would like to share a meditation written by Sister Frances Venard
GOD
Pure Spirit
Images Unseen
Words Unspoken
The Deepest Feelings
Seldom Materialize
For They Live in Joy.
Words Unspoken
Images Unseen
Pure Spirit.
GOD.
Sister Frances Venard, "When dreams become a reality, there is cause to rejoice!"