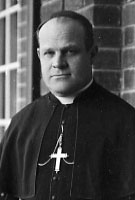 Bishop Adolph J. Paschang, MM
Born: April 15, 1895
Ordained: May 21, 1921
Died: February 2, 1968
Adolph J. Paschang was born in Martinsburg, Missouri, on April 15, 1895. He attended St. Joseph Parochial School there, St. Louis University High School in St. Louis, Campion College in Prairie du Chien, Wisconsin He later transferred to Kenrick Seminary in Webster Groves, Missouri, and from there to Maryknoll in 1917.
He was ordained on May 21, 1921 and assigned to Kongmoon. Sixteen years later he was named Vicar Apostolic of that Region and was consecrated bishop on November 30, 1937. At the time he took charge of the Kongmoon Vicariate in 1937 the entire area was being invaded by the Japanese. He immediately organized relief stations and set up medical dispensaries to aid refugees. When the Japanese invasions in the Far East turned into a world war, he was seized by the Japanese soldiers and exiled to Macao. He escaped to Free China and eventually returned to his diocese and remained for the rest of the war.
During the Communist invasion of South China Bishop Paschang was taken into custody, put on trial and a ransom demanded for his release. When the ransom was refused he was expelled, despite his request to stay on, if not as a bishop, as an orderly in one of the Catholic hospitals. He was escorted to Macao by soldiers and from there sailed to Hong Kong where he arrived on June 9, 1952.
From 1952 to 1957 when his health began to fail, he lent his support to various missionary endeavors in Hong Kong. He died on February 2, 1968.
A Requiem Mass was concelebrated at Maryknoll, N.Y. on February 6 at which Bishop Comber was principal celebrant. Burial was in Hong Kong.