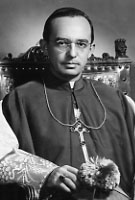 Bishop Alonso M. Escalante, MM
Born: December 24, 1906
Ordained: February 1, 1931
Died: June 21, 1967
Alonso M. Escalante was born in the city of Merida, Mexico on December 24, 1906. He was educated in the Catholic Schools of Mexico and the United States. He entered Maryknoll Preparatory Seminary in 1920 and was ordained on February 1, 1931.
His first assignment was to the Venard faculty and a year later he began his missionary labors in Fushun. In 1940 he was assigned to the faculty at Maryknoll. He became Superior of the new mission of the Pando, Bolivia in 1942 and in 1943 he was named by the Holy See as Vicar Apostolic of that region and Titular Bishop of Sora. He was consecrated in Mexico City on May 9, 1943.
In 1948, at the request of the Mexican Hierarchy, he was assigned to assist them in organizing a Foreign Mission Seminary and Society for Mexico. He was the Mexican National Director of the Pontifical Mission Aid Societies, a member of the Commission and Post-Conciliar Commission on the Missions, and President of the Mexican Episcopal Commission on the Missions.
He was in Hong Kong in 1967 to see about securing mission territory for his Mexican priests when he died on Wednesday, June 21, 1967. He was conscious to the end and requested that his body be sent to Maryknoll for the funeral Mass and then to Mexico for burial.