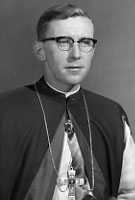 Bishop Charles A. Brown, MM
Born: August 20, 1919
Ordained: June 9, 1946
Died: Mary 15, 1997
Bishop Charles Arthur Brown died at Phelps Memorial Hospital, Tarrytown, New York, on the morning of May 14, 1997. He was 77 years of age, a Maryknoll priest for 51 years and a bishop for 40 years.
Bishop Brown was born in the Highbridge section of the Bronx, New York, August 20, 1919, the son of James and Mary Jane Sullivan Brown. He was one of 11 children – 9 boys and 2 girls. An older brother, Robert, became a priest and Monsignor of the Archdiocese of New York, where he served until his death in 1988. The future Bishop Brown attended Sacred Heart elementary school in the Bronx. Sensing early in his life a vocation to the priesthood, he attended Cathedral High School and graduated from Cathedral College, the minor seminary of the Archdiocese in June 1939. In September of that year he entered Maryknoll's Venard Apostolic College at Clarks Summit, Pennsylvania. He completed his theological studies at Maryknoll, New York, where he was ordained to the priesthood on June 9, 1946.
That same year he was assigned to Maryknoll's Bolivia Region where he would spend his entire missionary career. He began his apostolic work as assistant pastor and then pastor in the Maryknoll parish of St. Anne in Cochabamba, where he served from 1947 to 1952. As pastor he directed the construction of a parish school which continues to be a major educational institution in Cochabamba today. In 1953, the Bolivian Bishops named him National Director of Vocations. In the fall of 1953 he was assigned to the capital city of La Paz as the first Maryknoll pastor of the parish of St. Peter. He served also as Second Consultor (1950-1955) and then as First Consultor (1956) of the Maryknoll Society Superior for South America.
On November 29, 1956, Pope Pius XII, in order to assist the Bishop of Santa Cruz, Bolivia, in meeting the pastoral needs of this rapidly growing diocese, appointed Fr. Brown Titular Bishop of Vallis and Auxiliary Bishop of Santa Cruz. He was ordained Bishop by Francis Cardinal Spellman at St. Patrick's Cathedral in New York on February 27, 1957. Bishop Brown chose as his episcopal motto "Facere Voluntatem Tuam" [To Do Thy Will]. Bishop Brown was the first North American priest to be named a bishop in a diocese of South America, and at 37 he was the youngest bishop in Bolivia.
At the time of his appointment as Bishop, his superiors noted that Fr. Brown had a special aptitude for organizing parish groups such as youth organizations, Cana Conferences and Catholic Action. Bishop John Comber, the then Superior General of Maryknoll, described him as "a friendly, sociable type, affable and kind, a hard worker with genuine zeal for souls, and interested in social problems." In expressing his gratitude for Maryknoll's support at that time, Bishop Brown wrote, "I hope that whatever good I am able to do in Santa Cruz will redound to the greater glory of Maryknoll, to whom I owe everything I have." One of the first projects he promoted in the diocese was a pre-seminary. An interest in local vocations to the priesthood continued to be a strong element of his pastoral concern. He served some years as Vicar General of the diocese and was active on many national episcopal commissions. His activity was marked by a great affection for the people of Bolivia, an endearing wit and great sense of humor.
Bishop Brown participated in the sessions of the Second Vatican Council (1962-1965) as a member of the Bolivian Episcopal conference. After the Council he was active in its implementation in Bolivia. In 1967, he was invited to Maryknoll to perform the ordinations of that year's candidates for minor and major orders. "It was really a tremendous and delightful experience for me personally," he later wrote to the Superior General, "and one that renewed very deeply my affection for Maryknoll." As a Maryknoll Bishop, he participated in the Society's Sixth General Chapter in 1972.
In 1982 he and his priest brother had the happy opportunity to celebrate their anniversaries together – Robert's 50 years as a priest and Charles' 25 years as a bishop. It was a joyous occasion for all the Brown family and friends.
In August 1995, upon reaching the mandatory retirement age of 75, Bishop Brown formally relinquished his position as Auxiliary Bishop but continued to reside in Santa Cruz where, despite illness, he provided a limited ministry.
In 1996, Pope John Paul II invited all priests who, like himself, had been ordained in 1946 to concelebrate with him a solemn Golden Jubilee Mass of thanksgiving at St. Peter' basilica in November. Bishop Brown gladly accepted the invitation, but weakness overtook him in Rome and he was unable to take part in the papal Mass. On returning to Santa Cruz, the need for medical treatment became urgent and he returned to New York on January 6, 1997. He was treated at New York University Medical Center. Except for a few days at St. Teresa's Residence at Maryknoll, New York, he remained hospitalized with a series of medical complications until the time of his death.
Wake Services were held at 7:00 p.m. on May 18, 1997, at St. Teresa's Residence Chapel, and at 7:30 p.m. at Our Lady Queen of Apostles Chapel at Maryknoll Center. His Eminence, Cardinal John O'Connor, presided at the Mass of Christian Burial which was concelebrated at Queen of Apostles Chapel on May 19, 1997 at 11:00 a.m. Bishop Patrick V. Ahern of the New York Archdiocese was Principal Celebrant and Fr. Edward F. Walck, M.M. was homilist. Final obsequies and burial took place in the Cathedral of Santa Cruz, Bolivia.