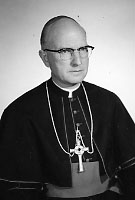 Bishop Edward A. McGurkin, MM
Born: June 2, 1905
Ordained: September 14, 1930
Died: August 28, 1983
A Maryknoller's death is always difficult to report to the Maryknoll membership, but I find it extremely difficult to put into writing that Bishop Edward McGurkin died early in the morning of August 28th. The bishop, as a priest and a Maryknoller, has always been a fine example of gentleness and humility. His life reflected so well these words from the book of Sirach: "My son, conduct your affairs with humility, and you will be loved more than the giver of gifts. Humble yourself the more, the greater you are; and you will find favor with God." (Sir.3:17,18)
Like Christ, even during the last weeks of his illness, he was always thinking of others. A last letter to his friends brings this out very well: "I would like to thank you all for your many beautiful expressions of love that have been offered to me during this period of my illness."
Edward Aloysius McGurkin, the eleventh child of Michael McGurkin and Katherine Gleason, was born on June 22, 1905, in Hartford, Connecticut. After graduating from public schools there, he attended St. Thomas Preparatory Seminary. Bishop McGurkin wrote in his own autobiography: "Having once decided on my vocation, I spent almost two years in reflection and examining myself. I never experienced any doubts and always came to the conclusion that it was just what I wanted."
Because of an early assignment to Rome, he was ordained by Bishop John Dunne at Maryknoll on September 14, 1930. Before becoming the Procurator General in 1935, he served for two years as English Editor of the Fides News Service and also as personal secretary to Cardinal Fumasoni-Biondi, Prefect of the Sacred Congregation of the Evangelization of Peoples. He remained in Rome until he was assigned to Fushun, Manchuria in 1938. Shortly after the outbreak of World War II, he, along with other American missionaries, was interned by the Japanese. He remained a prisoner throughout the war.
Upon his return to the United States in 1946, Bishop McGurkin was named the Spiritual Director at the Center and in 1948 he was appointed Local Superior at Maryknoll, New York. For a short period he was the Novice Master at the Novitiate in Bedford, Massachusetts, before he was appointed in 1954 as Group Superior to pioneer Maryknoll's new mission in Shinyanga, Tanzania. In July of 1956 he was appointed as Ordinary of the Shinyanga Diocese and was ordained a Bishop on October 3, 1956 in Hartford by Archbishop Henry Joseph O'Brien. He chose as his motto: "Primum Regnum Dei", the same motto as Bishop James Anthony Walsh. After almost 19 years of successful pastoral work in Shinyanga, he resigned from his diocese in 1975 to turn over his responsibilities as Ordinary to Bishop Castro Sekwa, a local priest from Shinyanga.
After his resignation Bishop McGurkin returned to Maryknoll, New York. Since that time he was engaged in public relations for the Society. He kept himself very busy celebrating Sunday Masses in various parishes in Westchester County, daily Masses at the Maryknoll Sisters' convents, and especially by being the Spiritual Director of six Cursillo Groups and contact with the Charismatic Movement.
Bishop McGurkin was a complete Christian and a true priest who was very much in love with the priesthood Christ had given him. Like Christ, the bishop was very much concerned with people and sensitive to their needs. His affection for Maryknoll was constant and genuine and his many talents in music, writing and ministerial services were always at the disposal of the Society.
Since the bishop had many friends in the vicinity of Maryknoll, a Memorial Mass was celebrated on August 31, at 7:30 p.m., with Bishop John Comber as Celebrant and homily by Father Albert Fedders. Mass of Christian Burial took place the following day. Principal Celebrant was Father James Noonan and homily by Father Robert Sheridan. Burial followed in the Maryknoll cemetery.