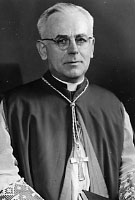 Bishop Frederick A. Donaghy, MM
Born: January 13, 1903
Ordained: January 29, 1929
Died: February 5, 1988
Bishop Frederick Anthony Donaghy died at St. Teresa Residence on February 5, 1988, at the age of 85. He served as Bishop for 49 of his 59 years of priesthood.
Frederick Anthony was born on January 13, 1903 in New Bedford, MA. His parents, James and Rose King Donaghy, had 5 sons and 1 daughter. Two of the sons became priests; his brother William A. was a Jesuit and President of Holy Cross College in Worcester, Mass. After attending grammar and high school in New Bedford, Fred graduated from Holy Cross College in June, 1925 and then studied Theology for 3 years at St. Mary's, Baltimore. He entered Maryknoll for his 4th year and was ordained priest on January 29, 1929.
His first mission was to Kaying in 1929. As a missioner he gave a good example to all… efficient, sensitive, and well-liked by the Christians and his confreres. His first 3 years were spent as an assistant in Chongpu Mission where he quickly became proficient in the Hakka dialect. He also taught at the minor seminary. He was then assigned to Tsungow and remained in charge of that mission for 7 years. He had a special ability in dealing with young people and was a good preacher in Hakka, French and English, as occasion warranted. In 1935 he was appointed Vicar Delegate of Kaying. On furlough, doing promotion work in Indiana, Fr. Donaghy received the news of his appointment, on July 21, 1939, as Vicar Apostolic of Wuchow. He was consecrated Bishop in Fall River Sept. 21, 1939.
As Ordinary of Wuchow Bishop Donaghy was noted for his appreciation of the Chinese people and their culture. His motto was "Quis proximus?" to model himself on the Good Samaritan. He told his missioners "It is hardly for us to set ourselves up as judges of the Chinese way of doing things, when it differs from ours. It is, rather, for us to adapt our minds to their way of thinking… and thus preserve for them intact that heritage which is their own treasure."
All during World War II he remained in Wuchow with his priests, managing religious devotions and extensive relief work for the people. When Maryknoll was entrusted with the evangelization of Wuchow in 1925, the area was noted among missioners as the most arid of all Chinese mission fields and Wuchow itself was called the City of No Conversions. Between the invasion of the Japanese in 1942 and the arrival of the Communists in 1949, the Vicariate had an amazing conversion record, unique in the history of Maryknoll, with over 3,000 baptisms recorded by the end of 1949. This was due in large part to the zealous efforts of Bishop Fred and his men.
The Communists moved into Wuchow in 1949 and Bishop Donaghy was imprisoned for 6 months and then confined under strict house arrest in Wuchow, forbidden to carry on any pastoral work. Finally he was expelled from China in June, 1955. He was elected General Chapter Delegate for the South Pacific group II in 1956 and in May of that year he was named Dean of Miaoli and Group Superior for Maryknollers in Taiwan, Hong Kong and the Philippines. Appointed Regional Superior of the Formosa-Hong Kong Region, he held that position for two terms.
In 1958 Bishop Donaghy initiated the Chinese Congregation of the Sisters of the Sacred Hearts of Jesus and Mary, the first local congregation of Sisters founded in Taipei. With other Maryknoll bishops, he attended the many sessions of the 2nd Vatican Council between 1962 and 1965. During that time he also continued his work as Dean and Regional Superior. He attended the 1966 Chapter at the Center. He continued as Dean of Miaoli until he entered the Special Society Unit in 1979, but continued as pastor of St. Margaret Mary Parish, in Sanyi. Fr. Albert Fedders has noted that "Bishop Donaghy, now 85, is known by Maryknollers and especially by the Chinese priests here as one of the most cheerful and jovial entertainer we have ever known…" Bishop Donaghy wrote last year, "Periodically I am asked why, after so many years, I continue to live in China. The answer is simple – more than two-thirds of my life have been spent among a people I greatly admire and respect, doing a work I thoroughly enjoy." His family members recall his oft-expressed hope to die and be buried in China. So they are very pleased that the Society has permitted the interment of the Bishop in Miaoli. He celebrated his Golden Anniversary or priesthood in 1979. In 1983 he resigned as Ordinary of Wuchow with the title of Bishop Emeritus. Due to severe weakness, he returned to St. Teresa Residence in 1987 where he died this year.
Wake services were held on Feb. 8, at St. Teresa's and in the Lady Chapel, conducted by Fr. John F. Kennedy. Sr. Mary Ellen Karrigan read the biography. Mass was offered in the Sisters' Motherhouse Chapel on the 9th with Bishop John Rudin, Celebrant, while Fr. John Moran read the Homily. The prayers of commendation were read by Fr. Joseph McDonald. Burial is to be at West Mountain Cemetery, Miaoli.