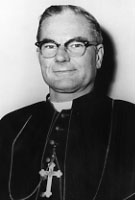 Bishop Hugo M. Gerbermann, MM
Born: September 11, 1913
Ordained: February 7, 1943
Died: October 19, 1996
Bishop Hugo M. Gerbermann died at the Czech Catholic Home in Hilje, Texas at 6:30 P.M. on Saturday, October 19, 1996. He was 83 years of age and a Maryknoll Priest for 53 years.
Hugo was born in Nada, Texas on September 11, 1913, son of John J. and Matilda H. Gerbermann. One of eight children, he had three brothers and four sisters. One of his brothers was a priest in the Archdiocese of San Antonio, Texas. Hugo attended the Nada Public School and studied in St. John's Seminary for seven years as a candidate for the Archdiocese of San Antonio. On September 1, 1939, Hugo entered the Maryknoll Novitiate, Bedford, Massachusetts, the first Maryknoll vocation from Texas. He was ordained a priest at Maryknoll Seminary, New York on February 7, 1943.
Father Gerbermann was assigned to the new Maryknoll Mission in Guayaquil, Ecuador, South America. He served as pastor of Quevado Parish for three years and Vinces Parish for two years. On June 26, 1948, the Maryknoll Mission team was replaced by Spanish Franciscans and Maryknollers transferred to other Missions. Father Gerbermann was assigned to the Maryknoll Mission in Guatemala where he served for twenty-seven years. He began as assistant pastor in Soloma for three years and then became pastor of the Ixtahuacan parish in Huehuetenango Province. He became fluent in the Indian language as well as Spanish and built a school for the growing parish.
Father Gerbermann was appointed First Consultor to the Maryknoll Group Superior in Guatemala. On October 18, 1956, he was appointed Regional Superior for a term of five years.
On August 10, 1961, the Huehuetenango Mission was raised to the status of a Prelature Nullius, and Father Gerbermann appointed as the Prelate in charge. On June 8, 1962, Monsignor Gerbermann was named Titular Bishop of Amatunte (Amathus) in Palestine and Bishop of Huehuetenango. The Guatemala Government honored him with the Hermano Perdo award for his contribution to the development of the country. As Bishop of Huehuetenango, he attended all the sessions of the Second Vatican Council in Rome, Italy between 1962 and 1965.
Due to the pressures and responsibilities of his office, Bishop Gerbermann's health began to decline. The Holy See lightened his responsibilities by granting him an Auxiliary Bishop to serve as the Apostolic Administrator of the Diocese of Huehuetenango. After several years of unstable health, Bishop Gerbermann returned to the United States. His Auxiliary Bishop, Victor Hugo Martinez, was then made Bishop of Huehuetenango. On July 31, 1975, he accepted the appointment as Auxiliary Bishop in the Archdiocese of San Antonio, Texas. He set up residence in St. Agnes Parish in Edna, Texas and served there as Vicar General and Auxiliary Bishop.
Granted permission by Pope John Paul II, Bishop Gerbermann retired as Auxiliary Bishop and took up residence at St. Mary's Parish in Nada, Texas. He offered assistance to the priests of that area. He was formally enrolled in the Special Society Unit with residence in Nada on September 1, 1982.
He later moved to the Czech Catholic Home in Hilje, Texas where he was a resident and celebrated mass for the residents.
Funeral Services were held on Tuesday, October 22, 1996, at The Church of the Nativity of the Blessed Virgin Mary in Nada, Texas. As requested in Bishop Gerbermann's last Will and Testament, the Principal Celebrant was Fr. Edward R. Schoellmann, M.M. a native of Nada. The homilist was also a native of Nada, retired Bishop Bernard Popp of San Antonio Archdiocese who represented Archbishop Patrick Flores. Bishop David Fellhauer was represented by the Vicar General/Chancellor of the Victoria Diocese, Rev. Msgr. Thomas C. McLaughlin. Fr. Rafael Davila represented the Superior General of Maryknoll and spoke on his behalf. Fr. Davila commented on the sign in the Church that states,"the only Parish in Texas with two Bishops." He added another sign could state, "the only Parish in Texas with two Maryknollers." Internment followed at St. Mary's Cemetery in Nada, Texas. A Memorial Mass will be held at Maryknoll, New York.