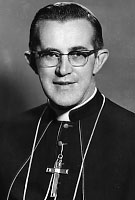 Bishop J. Richard Ham, MM
Born: July 11, 1921
Ordained: June 12, 1948
Died: December 20, 2002
Bishop J. Richard Ham died at St. Teresa's Residence early in the morning of Friday, December 20, 2002. He was 81 years of age and a Maryknoll priest for 54 years.
James Richard Ham was born on July 11, 1921 in Chicago, Illinois, son of James William and Loretta Freely Ham; and had one sister, Joan. He attended St. Mel's Parochial School for eight years and Quigley Preparatory Seminary for five years. As a seminarian for the Archdiocese of Chicago he attended St. Mary of the Lake Seminary in Mundelein, Illinois, for three years and received his Bachelor of Arts degree in Philosophy. He entered Maryknoll Novitiate in Bedford, Massachusetts on September 1, 1943 and later was ordained a priest at Maryknoll Seminary, Ossining, New York, on June 12, 1948.
After ordination, Father Ham was assigned to the Maryknoll Promotion Department and served in that Department for ten years. He served in the Chicago Promotion House for one year and then in the St. Louis House for one year. In April 1950 Father Ham was appointed Director of Promotion at the Venard in Clarks Summit, Pennsylvania; and on December 21, 1953 he became the Director of Promotion in the Minneapolis/St. Paul area. He proved to be a tireless worker and made a fine impression wherever he went as the representative of Maryknoll. Father Ham was commended for his efforts in getting young local men interested in the missions and Maryknoll, and for his formation of successful mission groups throughout the area.
On March 3, 1958, Father Ham was assigned to the Maryknoll Mission Region in Guatemala. His career in Central America would span the next 21 years. After language and cultural studies he was appointed Assistant Pastor of the Cuilco Parish, and a year later he was assigned to Maryknoll's new work in a Mayan Indian Parish in Ixtahuacan, Huehuetenango, Guatemala. In 1961 he became the founding pastor of Mother of the Saviour (Madre del Salvador) in Santa Ana, El Salvador. There he introduced the Christian Family Movement with much success, and it spread throughout the Diocese of Santa Ana. In 1962, he returned to Guatemala and for the next 6 years served as Pastor of Villa de Nuestra Senora de Guadalupe Parish in Guatemala City. His pastoral and missionary ministry attracted the attention of the Papal Nuncio and the Archbishop of Guatemala City. He gained a reputation as a dedicated pastor, skilled in public speaking, administration, finances, fund-raising and public relations with professional people in the city. He was particularly well liked by the priests in Guatemala. Father Ham was elected Chapter Delegate to the 1966 Maryknoll General Chapter from the Guatemala Mission Region.
In November 1967 Pope Paul VI named Father Ham Auxiliary Bishop of Guatemala City with the titular See of Apuzia in Numidia. He was ordained to the Episcopacy on January 6, 1968 at the Guatemala City Cathedral by the Apostolic Nuncio Archbishop Bruno Torpigliani and Archbishop Mario Casariego. He chose as his official motto the words of St. Paul: "Christo vivere"– "to live in Christ." Bishop Ham was given the responsibility of coordinating the lay apostolic movements in the Archdiocese, coordinating the pastoral activity of women religious, supervision of the minor seminary, construction of a new major seminary and the continuing education of the younger priests. He was likewise named one of the Vicars General of the Archdiocese. For a time he was rector of the Cathedral, while continuing as pastor of Guadalupe parish. In order to identify more closely with the other bishops of the country he became a citizen of Guatemala without relinquishing his United States citizenship.
In his letter of congratulations to Father Ham on his appointment as bishop, the Superior General of Maryknoll, Father John McCormack wrote: "I know from my personal knowledge of you that you will be of enormous help to the Church in Guatemala, and ultimately to the work of Maryknoll in your new capacity. I want to assure you of my prayers for God's wisdom, strength and guidance."
Following the devastating earthquake that struck Guatemala in 1976, Bishop Ham served as Archdiocesan Coordinator of Assistance and Rebuilding. In 1979, after almost 11 years of dedicated service as an Auxiliary Bishop of Guatemala City, Bishop Ham accepted an opportunity for pastoral work in the United States. For several months he provided his services to the Sioux Falls, South Dakota diocese, residing in the parish of St. Leo in Tyndall, South Dakota. On March 1, 1980 Bishop Ham was formally assigned to the United States Region. At that time, the Superior General of the Society, Father James Noonan wrote to him expressing Maryknoll's appreciation "for the wonderful service you have given over these many years to the Society here in the U.S., and for the long service in your mission assignment to Central America…. Thanks from all of us for all that has been, and every best wish and prayers for success in all your undertakings for the Hispanics and Maryknoll in your new mission work here in the United States."
On October 7, 1980 Pope John Paul II named Bishop Ham Auxiliary Bishop of St. Paul- Minneapolis, Minnesota. He was warmly received by Archbishop John Roach, and was named Auxiliary Bishop for Hispanic Affairs. For the next 10 years he gave his full energies in responding to the pastoral needs of the then more than 35,000 Hispanics of the area, and generously served the Archdiocese in many other ministerial roles. In 1983 he accompanied three other bishops on a fact-finding tour to Guatemala, during which he argued strongly with U.S. diplomats against the policy of providing arms to the Guatemalan military government. His position was reported prominently in the Wall Street Journal.
In 1990, failing health made it necessary for Bishop Ham to relinquish his active work. At his own request he formally retired and was assigned to the Special Society Unit on March 14, 1991. He was admitted to Maryknoll's health care facility, St. Theresa's Residence, at Maryknoll, New York where he remained until his death.
Wake services were held at 4:30 p.m. on Sunday, December 22, 2002 at St. Teresa's, with Father Alan Ryan officiating, and at 7:30 p.m. in Queen of Apostles Chapel at Maryknoll Center where Father Edward Walck presided and Father Kenneth Moody read the biography. Mass of Christian Burial was concelebrated in Queen of Apostles Chapel on Monday, December 23, 2002 at 11:00 a.m. Father Charles Huegelmeyer was Principal Celebrant and homilist. Bishop Mario Rios Montt, Auxiliary Bishop of Guatemala City, gave a brief eulogy. Burial followed in Maryknoll Society Cemetery with Father John McAuley conducting the graveside service.