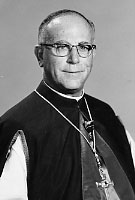 Bishop James V. Pardy, MM
Born: March 9, 1898
Ordained: January 26, 1930
Died: February 16, 1983
Bishop James V. Pardy, a member of the Special Society Unit, died Ash Wednesday, February 16, 1983, in El Camino Real Hospital, Mountain View.
Bishop Pardy was born in Brooklyn, N.Y. on March 9th, 1898. He was the son of William Pardy and Sarah McCarren, parents who imbued their eleven children with a deep sense of loyalty to family and of faith in God. Later, in Maryknoll, through so many years, these traits enlarged to his abiding loyalty to the Holy Father and in his strong defense of fidelity to the Society oath.
After grammar school in the public system, Jim went to work while attending night school. During this work-study period he was influenced by a sermon of a Columban Father who ignited in him both the spark of mission and the desire for more schooling. For the time being, however, Jim put mission to one side and pursued studies for a law degree. He attended the New York Preparatory School for two years and St. Francis College, Brooklyn, for three years. The idea of discontinuing his studies for a law career and beginning studies for the priesthood came from his aunt, Sister Euriella, S.S.J. Thus, while trying to decide between the Paulist Fathers and the Columban Fathers, Jim visited Maryknoll through the invitation of a friend, Austin Helfenstein. And so, through a stranger's sermon, an aunt's conversation and a friend's invitation, James Pardy entered Maryknoll September 12, 1925. In his time of formation he became a "top student with a sense of humor," never lost his smile, was always joking, and could always take a joke.
Ordained on January 26, 1930, Father Jim served on the faculty of the Venard until his assignment to Korea in May, 1932. There he began the missionary work he had longed for over a period of time. Korea was his home away from home until 1942, performing the satisfying duties of priest, teacher and nurse. The Japanese interned him in 1942 and after ten months he was repatriated.
Some measure of the man and of his service to the Church might be seen in the responsible positions held by Father Jim over the years. To the Church at large in a time of conflict, Major James Pardy was an Army Chaplain from 1943 to 1946 and from 1951 to 1953. He received the Medal of Freedom from the U.S. Army for his services to the POWs in South Korea. To the Society, in state-side services, he was Professor, Rector, Head of Formation, Education Secretary, Chapter Delegate and Vicar-General of the Society. To Maryknoll and to the Church in Korea, he was at various times Consultor, Society Superior, Group Superior and, finally, from September 16, 1958 until his resignation in August, 1969, Vicar Apostolic of Chong Ju and Titular Bishop of Irenopolis in Isauria.
At the time of Bishop Pardy's Episcopal Ordination he was presented with a crozier that belonged to the first American Cardinal John McCloskey. The crozier had been used by Bishop Byrne who was forced to join the infamous Death March to the Yalu River, during which Bishop Byrne died as a result of Communist maltreatment.
On February 18, a Mass for Bishop Pardy was celebrated, with Father George Gilligan as Homilist. At Maryknoll, N.Y. the Wake Service took place on February 21 in the Chapel, conducted by Father Francis MacRae. Mass of Christian Burial was the following day with Principal Celebrant Father John Halbert and Homily by Father John Corcoran. Burial followed in the Maryknoll Cemetery.
At Bishop Pardy's Episcopal Ordination, Bishop Fulton Sheen delivered the sermon. Bishop Sheen explained that Bishop Pardy's Episcopal Ordination resembled for Korea the work of St. Paul. Bishop Pardy was to return to Korea under the banner of the Cross to the land "where the Communists persecuted and martyred the missionary Church." Twenty centuries ago Paul picked himself up after a missionary journey filled with persecution and stonings and returned to the cities which had cast him out, declaring: "We cannot enter the Kingdom of Heaven without many trials."