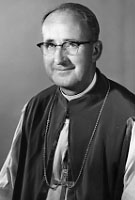 Bishop John J. Rudin, MM
Born: November 27, 1916
Ordained: June 11, 1944
Died: June 14, 1995
Bishop John J. Rudin died on the afternoon of June 14, 1995 at Phelps Memorial Hospital, Tarrytown, New York. He was 78 years old, a priest for 51 years and a Bishop for 38 years.
John J. Rudin was born in Pittsfield, Massachusetts, on November 27, 1916, son of John J. and Mary A. Kelley Rudin. He attended public schools through grade and high school in Pittsfield. John entered Maryknoll Apostolic College (Venard) on September 7, 1934. He was ordained a priest at Maryknoll Seminary in Ossining, New York, on June 11, 1944.
After ordination Father Rudin was assigned to advanced studies at the Catholic University of America in Washington, D.C. He secured a Licentiate Degree in Theology in June 1945. He was then assigned to the Venard Faculty where he taught Latin and liturgy for two years. In September of 1947, he was assigned to Collegio Maryknoll in Rome, Italy, and secured a Doctorate in Moral Theology at the Pontifical Gregorianum University on October 19, 1948. Upon his return to the United States, Father Rudin was appointed Rector of the Maryknoll Junior Seminary in Brookline, Massachusetts, to guide the initial formation and studies of a large number of veterans from the U.S. military services who were joining Maryknoll at that time. In 1951, he was assigned to the Maryknoll Seminary Faculty in Ossining, New York, to teach moral theology. He served as Vice-Rector of the Seminary for three years.
On April 20, 1954, Father Rudin was assigned as the head of the new Maryknoll Mission in Shinyanga, Tanzania, East Africa, a mission area taken over from the White Fathers. He served in Kilulu for ten months and in Sayusayu for another ten months. In 1956, he was appointed Society Superior for Africa with residence in the Center House in Nairobi, Kenya and attended the Fourth General Chapter at Maryknoll, New York, later that same year.
On August 1, 1957, Father Rudin was appointed as the first Bishop of the newly-formed Diocese of Musoma, Tanzania. He was ordained Bishop of the diocese on October 3, 1957 in an open-air ceremony in Musoma before a large gathering of Catholic people from throughout the country. He attended the Second Vatican Council in Rome during 1962-1965 where he served on the committee working for greater unity between the Churches of East and West Africa. In 1966, he attended the Maryknoll Society's Fifth General Chapter in Ossining, New York.
In his pastoral work, Bishop Rudin took part in setting up the new diocese of Musoma with new parishes and offices. Along with the many diocesan and parochial buildings that he established, he expanded and upgraded St. Pius Seminary on the shores of Lake Victoria. However, Bishop Rudin was always careful to set up only those programs and institutions that the local Church would be able to support financially after the diocese was turned over to an African bishop. He started the practice of stationing African diocesan priests with Maryknoll priests and thus strengthened the bond of unity between the diocesan priests and the Maryknoll missioners.
Bishop Rudin served in Africa for 25 years. After nearly 20 years as Bishop of Musoma, Bishop Rudin felt that the Diocese was on a firm enough basis to no longer need a missionary Bishop. So, in 1976, at the relatively young age of 60, he requested the Holy Father to accept his resignation and appoint a Tanzanian Bishop. His repeated request was denied several times until it was finally granted in January 1979. He stayed on as Administrator until April, when Bishop Anthony Mayala was ordained in the newly completed Musoma Cathedral and installed as the second Bishop of Musoma. Bishop Rudin then returned to the United States.
From 1980 to 1988, Bishop Rudin worked in various pastoral situations in the U.S., including a period of three years with the Glenmary Fathers in the Diocese of Savannah, Georgia. On January 1, 1988, Bishop Rudin was enrolled in the Special Society Unit with residence in the Maryknoll Development House, Chestnut Hill, Massachusetts where he helped out by fulfilling various Development Department commitments in the New England area. On February 1, 1992, he was appointed Acting Director of the Chestnut Hill Development House. On visits with various Bishops and at meetings of the U.S. Bishops Conference, he always used the occasion to do some quiet Maryknoll cultivation work with the Bishops.
After suffering a severe fall, he was transferred to St. Teresa's Residence at Maryknoll, New York on October 27, 1993, where he spent the rest of his days in a wheelchair.
A former student wrote concerning Bishop Rudin's influence on his life: "Prayer is something I have never, ever given up since those very early days when John Rudin gave some of the most outstanding instructions on prayer I ever had. It has been the only sustaining force for many a year." Bishop Rudin, soft-spoken and low-key, will be remembered for his simple life-style, his hospitality and his pastoral concern for people.
Wake services were held at St. Teresa's Residence Chapel and later in Our Lady Queen of Apostles Chapel on Monday evening, June 19, 1995, where Fr. George Painter presided, Fr. Francis Flynn read the biography letter and Fr. John Hudert was homilist. Fr. James Lehr was principal celebrant and Fr. Edward Hayes was homilist at the concelebrated funeral Mass in the Queen of Apostles Chapel at Maryknoll, New York on Tuesday, June 20, 1995. Graveside services were conducted in the Maryknoll Society Cemetery at the Center by Fr. Laurenti Magesa, a priest of the Musoma Diocese who was ordained by Bishop Rudin.