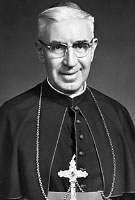 Bishop Joseph W. Regan, MM
Born: April 5, 1905
Ordained: January 27, 1929
Died: October 24, 1994
Bishop Joseph W. Regan died at San Pedro hospital in Davao City, Philippines, on October 24 at 2:20 p.m. He was 89 years old, a Maryknoll priest for 65 years and Bishop for 32 years, giving the longest overseas service of any Maryknoller in the history of the Society.
Joseph William Regan was born April 5, 1905, in Boston, Massachusetts, son of William D. and Mary McFarlane Regan. His sister, two years younger, became Sister Rita Marie Regan, M.M. and served in South China and Taiwan until her retirement in 1994. Their father was a railroad car inspector on the New York-New Haven Railroad. He belonged to the choir in St. James Church in Boston. Their mother served as a catechist in the Cathedral as well as in a neighboring parish.
Joseph first attended public school for three years and then enrolled in St. Joseph's Parochial School. He graduated from Fairhaven High School in June 1921 and in June 1925 from Boston College with a Bachelor of Arts degree. He studied at St. Bernard's Seminary in Rochester, New York, as a priesthood candidate for the Fall River Diocese. He was attracted to Maryknoll through his devotion to St. Teresa the Little Flower, a desire to serve as a missionary to China, and the biography of Theophane Venard, A Modern Martyr, written by Father James A, Walsh, co-founder of the Maryknoll Society. He entered Maryknoll Seminary in Ossining, New York, in September, 1927 and was ordained a priest on January 27, 1929.
After his ordination Father Regan left for South China where he served a total of 22 years from 1929 through 1951. His first task was to study the Cantonese language; then he was assigned to Wuchow, South China, where he served for about three years. In 1934 he was transferred to the neighboring Kweilin Mission and took up pastoral work among the Mandarin speaking people in Laipo. In 1935 he was given additional duties, serving as Vicar Delegate to Wuchow for the Kweilin area for two five-year terms from 1938 through 1948. He served in the Laipo mission for 16 years in pastoral ministry.
When Communist forces took over South China, Father Regan was placed under house arrest on December 15, 1950. He was taken to jail on Christmas Day. Two of his six months in jail were spent in solitary confinement. He was expelled from China on June 20, 1951 and returned to the United States.
While recuperating at Maryknoll headquarters in New York, Father Regan was asked by his superiors to lead a group of Maryknollers to a new mission in the Philippines, where he served for the rest of his life. Appointed Group Superior Dec. 14, 1951, he led the first 11 Maryknoll priests in Lipa Diocese, Laguna Province, near Manila. There he learned the Tagalog language and served for eight years in Pakil and Paete. On October 4, 1956 he was appointed Regional Superior for all Maryknoll Society Members in the Philippines.
According to Father Regan, the Maryknollers soon found the Laguna mission "too established," and in April 1958 the Society accepted a new mission in the Davao Province on the Island of Mindanao. Due to postwar migrations of Filipinos, the southern island of Mindanao had experienced a population explosion and priests already were in short supply to serve this rapidly expanding populace.
Father Regan moved to Davao and learned his fourth language, Cebuano. In 1959 the Congregation of Propaganda Fide in Rome created a Prelature Nullius in the northeastern part of Davao, appointing Father Regan as the Prelate to administer this district.
On February 2, 1962, Monsignor Regan was appointed Titular Bishop of Isinda (Pamphylia) and Ordinary of the Prelature of Tagum, a vast frontier to the northeast of Davao City. He was consecrated Bishop on April 25, 1962 in Tagum and served as Ordinary until 1980, when he reached the retirement age of 75. As Bishop he established parishes, schools, a hospital, a radio station and a seminary. He stressed the training of local seminarians for the growth of the local Church.
The Church in Tagum became known in the 1970s and 1980s throughout the Philippines as a cradle of the basic eccesial communities movement. Lay leadership formation, the volunteer catechists movement, social action projects, and youth formation were also hallmarks of the Church in Tagum under the leadership of Bishop Regan.
The Bishop's responsibilities also took him outside Tagum. He attended the Second Vatican Council from 1962 to 1965. He participated in the Maryknoll General Chapters of 1946, 1956 and 1972 at the Maryknoll Center in New York. He was an active member of the Catholic Bishops Conference of the Philippines. The Jesuit University in Davao City granted him an honorary doctorate in 1979.
Bishop Regan had many qualities that endeared him to the people he served. He had a quiet sense of humor; he manifested pastoral care and solicitude, particularly by visiting his beloved diocesan clergy and the indigenous sisters. He became affectionately known as "Lolo" or grandfather, and, with advancing age, he was often called "Super Lolo."
In the 1980s and 1990s, "retired" Bishop Regan continued as active resident Chaplain of Christ the King Hospital in Tagum which he founded. He filled in for the three succeeding Bishops of Tagum Diocese and the newly formed Mati Diocese. In offering school Masses he encouraged the students in both Catholic and public schools to offer material support for the diocesan seminary and to consider active involvement in the Church. Each Spring he systematically attended the graduation ceremonies of all the Catholic high schools in the diocese, conferring diplomas on thousands of graduating Filipinos.
On April 28, 1987, there was a great celebration in Tagum and Davao City on the occasion of his 25th anniversary as Bishop. Similar celebrations were held in 1989 and 1994 on his sixtieth and sixty-fifth anniversaries of priesthood. His sister, Sister Rita Marie, M.M. came to be with him on both these happy occasions. She was with him again in his last days and at the time of his death.
A Mass of Christian Burial was concelebrated on October 31, 1994 in Christ the King Cathedral of the Diocese of Tagum in Davao Province of the Philippines. Bishop Wilfredo Manlapaz, Bishop of Tagum, was the Principal Celebrant and Homilist. Participating in the Mass were five Archbishops, seven Bishops, 128 priests (many of whom had been ordained by Bishop Regan), some 200 Sisters and Brothers, and thousands of lay people, both inside and outside the Cathedral. Following the Mass, Bishop Regan's body was interred in the vault inside Christ the King Cathedral.