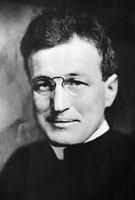 Bishop Patrick J. Byrne, MM
Born: October 26, 1888
Ordained: June 23, 1915
Died: November 25, 1950
Patrick J. Byrne was born October 26, 1888 in Washington, D.C.  He was educated by the Sulpician Fathers at St. Charles College and St. Mary's Seminary in Baltimore. He was ordained on June 23, 1915 and a week later came to Maryknoll with the permission of Cardinal Gibbons.
In the first days of Maryknoll there was little that Father Byrne was not responsible for at one time or other. He supervised the building at Maryknoll and at Scranton. He was Rector of both seminaries, Editor of the Field Afar, Vicar General and Treasurer.
In 1923 Father Byrne was chosen to begin the mission in Korea. Four years later he was raised to the rank of Monsignor and named Prefect Apostolic of Pyongyang. He laid the foundation well, so that the Church remained strong in Korea when the missioners were interned at the beginning of World War II. The Catholic population had increased by 25,000 souls and there were sufficient Korean priests and sisters. In 1929 Fr. Byrne returned to Maryknoll as a delegate to the first General Chapter. On this occasion he was elected Assistant Superior General.
His second mission career began in 1935 when he was selected to open a new mission field in Kyoto, Japan. Two years later he was named Prefect Apostolic of Kyoto and elevated again to the rank of Monsignor. Shortly before the war he, together with other foreign ordinaries, resigned this post in favor of a young Japanese priest. Because of his many charitable works the Japanese did not imprison him during the war but kept him under house arrest. He was asked to make radio broadcasts to the Japanese people as the American forces advanced to occupy Japan. These messages calmed the people and Japan was occupied without the loss of a single life. Later General McArthur praised Father Byrne's help and cooperation.
In 1947 Father Byrne was elevated for the third time to the rank of Monsignor and named Apostolic Visitor to Korea by the Holy See. Two years later he was appointed the first Apostolic Delegate to Korea and was named Titular Bishop of Gazera. A year after his consecration, on July 2, 1950, he was seized by the Communists and put on trial. Refusing to give in, he began the long march to the Yalu through the old Maryknoll mission territory. In Pyongyong there was another trial and then another march which lasted for more than four months in the worst weather and a minimum of food and shelter. Bishop Byrne became ill in November and finally succumbed to pneumonia. He told his companions: "After the privilege of my priesthood, I regard this privilege of having suffered for Christ with all of you as the greatest of my life." The next morning, November 25, 1950, Bishop Byrne died, having received absolution the night before from Father William Booth, his secretary. Monsignor Quinlan, a Columban Father, and Prefect Apostolic of Chunchon, recited the prayers at the grave from memory and buried Bishop Byrne in his own cassock.
Related Materials: