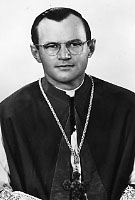 Bishop Thomas J. Danehy, MM
Born: May 19, 1914
Ordained: September 17, 1936
Died: October 9, 1959
Thomas J. Danehy was born on May 19, 1914 in Fort Wayne, Indiana. After grammar school he went to Sacred Heart Seminary in Detroit for three years and then spent two years at St. Joseph's College, Collegeville, Maryland. He was accepted for the Fort Wayne Diocese and entered St. Gregory's Seminary in Cincinnati. After one year of Philosophy there he came to Maryknoll in September of 1934.
He was ordained on September 17, 1938 and assigned to study at Catholic University in Washington, D.C. where he received his M.A. the following year. After teaching at the Venard for two years he was assigned to Bolivia in 1942.
On June 15, 1948 he was named Administrator Apostolic of the Pando Vicariate and five years later, on April 22, 1953, he was raised to the episcopacy and consecrated Titular bishop of Bita in his home parish in Manitowoc, Wisconsin.
On September 26, 1959, while Bishop Danehy was in Lima for a rest, he became ill. He was taken to the American Clinic and received the Last Rites from Fr. John Lawler. His condition continued to deteriorate and he died at 11:00 a.m. on October 9.
The funeral Mass and burial were in Lima. In 1961 his remains were transferred to Riberalta, Bolivia. His people wanted him to be buried in the land he had adopted and had made the request at the time of his death. Legal and government red tape had made it very difficult but finally it was accomplished.