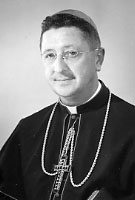 Bishop William F. Kupfer, MM
Born: January 28, 1909
Ordained June 11, 1933
Died: January 2, 1988
Bishop William F. Kupfer died at Westchester County Medical Center, Valhalla, New York on January 2, 1998. He was 88 years old and a Maryknoll priest for 64 years.
William was born on January 28, 1909 in Brooklyn, New York, son of Emil and Mary Connolly Kupfer. He had two brothers and three sisters. William graduated from St. Anthony of Padua Parochial School in Greenpoint, Brooklyn in 1922 and then entered St. Francis Preparatory School. While at St. Francis, he felt he had a vocation to the priesthood, and so his pastor advised him to transfer to Cathedral Preparatory College, the Minor Seminary for the Brooklyn Diocese. William graduated from Cathedral College in 1927 and then entered St. Mary's Seminary in Baltimore, Maryland as a candidate for the Brooklyn Diocese. He developed a strong desire to do priestly missionary work in China. In 1928, after a year at St. Mary's Seminary he asked for and received permission to join the Catholic Foreign Mission Society of America at Maryknoll in Ossining, New York with the express hope of becoming a missionary in China. He was ordained at Maryknoll, New York on June 11, 1933.
After ordination, Father Kupfer was assigned to the Diocese of Wuchow in the Province of Kwangsi, South China. After completing a one-year course in the Cantonese language, he began what was to be a 14 year period of missionary work in the Wuchow Diocese. Early in 1944, while the Japanese army was making inroads in the Wuchow area, Father Kupfer was granted a furlough. During this time, he was assigned as Vice Rector of the Maryknoll Junior Seminary in Akron, Ohio where he also taught classes in Geology, Church History and Apologetics. After one year, the situation in the Wuchow Diocese became more stabilized and Father Kupfer was able to return to his missionary work there.
In March 1948, Father Kupfer was appointed Local Superior and Procurator of the Maryknoll House at Stanley Bay, Hong Kong. He remained at that post until January 13, 1951 when at the age of 42 he was appointed Prefect Apostolic of the newly established Prefecture Apostolic of Taichung, Taiwan. Monsignor Kupfer arrived in Taichung in April and immediately began the study of the Taiwanese language. Thus began for Monsignor Kupfer what was to be a 35 year period as Ordinary of Taichung. For some time, he was the only Maryknoll priest in Taiwan. At that time about 1,500,000 people lived within the confines of the Taichung Prefecture Apostolic. There were only five Catholic Mission Stations with about 3,000 Catholics spread out over an area of 3,025 square miles.
Monsignor Kupfer was elected Chapter Delegate from the Taichung Group for the 1956 Maryknoll General Chapter held at Maryknoll, New York, and subsequently participated in three other General Chapters in his capacity as Bishop of Taichung.
On April 16, 1962, the Congregation for the Propagation of the Faith raised the Taichung Prefecture to the rank of Diocese. On April 28, 1962, Pope John XXIII nominated the 53-year-old Monsignor Kupfer as the first Bishop of this new Diocese. He was consecrated Bishop in Queen of Apostles Chapel at Maryknoll, New York on July 25, 1962 and installed as first Bishop of Taichung in the Taichung Cathedral of Christ the Saviour on September 23, 1962. Bishop Kupfer participated in every session of the Second Vatican Council in Rome, Italy, 1962-1965.
On January 28, 1984, having observed his 75th birthday, Bishop Kupfer submitted his resignation from the government of the Diocese of Taichung to the Holy Father, Pope John Paul II, in conformity with Canon Law. On March 4, 1984, Bishop Kupfer was informed that the Congregation for the Evangelization of Peoples had requested him: "to continue in your Office for another period of two years."
On November 12, 1986, Bishop Kupfer joyfully concelebrated the Ceremony of Installation Mass for the native Chinese Bishop Joseph Wang (then the Auxiliary Bishop of the Taipei Archdiocese) as the new Bishop of Taichung. A new era for the Church in the Taichung Diocese was inaugurated. When Bishop Kupfer turned over responsibility for the government of the Diocese to the new Bishop he looked back on his 35 years as Ordinary of Taichung and marveled at the changes that had occurred. There were 41 parishes in every section of the Diocese, with about 30,000 Catholics, a Catholic radio station, hospital, clinic for the sick-poor, a college, two girls high schools, and one boys high school, a primary school for boys and girls, a Center for Spirituality, an institution for training volunteer leaders in the social apostolate, three schools for special students, an auto mechanics training school, and for an extended period of time, a Minor Seminary and two catechist training schools: one for men and one for women.
As the year 1986 drew to a close and the new Bishop was familiarized with the Diocese, Bishop Kupfer returned to the United States, having completed 53 years of missionary work among the Chinese people. Bishop Kupfer was enrolled in the Maryknoll Special Society Unit on August 1, 1988, with residence in the Rectory of the Church of the Annunciation in Williamsport, Pennsylvania. During his time there, he assisted in Parish Ministry and visits to the sick in two nearby hospitals. In January 1996, due to failing health, Bishop Kupfer took up residence at St. Teresa's residence, where he remained until his death.
Wake services were held at 7:00 p.m. on January 6, 1998 at St. Teresa's Residence Chapel and at 7:30 p.m. at Queen of Apostles Chapel at Maryknoll Center where Fr. James T. Manning officiated and Fr. Larry Lewis read the biography. Mass of Christian Burial was concelebrated at Queen of Apostles Chapel on January 7, 1998 at 11:00 a.m. Most Rev. Thomas V. Daily, Bishop of Brooklyn was Principal Celebrant and Fr. James Nieckarz, homilist. Burial followed at Maryknoll Center Cemetery with Fr. Jeremiah Burr conducting the graveside service.