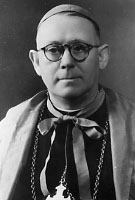 Bishop William F. O'Shea, MM
Born: December 9, 1884
Ordained: December 5, 1917
Died: February 27, 1945
William F. O'Shea was born on December 9, 1884 in Greenwich Village of New York City. He was brought up in Hoboken, N.J. and educated in the public schools there. After high school he worked as a bookkeeper and stenographer until he was appointed to the Navy Department. He resigned from the Navy in 1912 to join Maryknoll. His call had been in the form of a suggestion by a Jewish friend that he would make a finer priest than a naval officer.
William was the third student to enter the seminary in Hawthorne. In 1912 he began his philosophy and theology studies and he was ordained on December 5, 1917. For two years he assisted in the training of the new students at the Venard and in July of 1919 he received his assignment to China. He arrived in Kochow in December 1919 and started immediately studying the language. He also helped in the direction of the local orphanage.
In November, 1920 a new mission was opened in Wuchow and Father O'Shea was assigned to it. In 1924 he became the first Hong Kong procurator. Later in that year he was named a member of the General Council and returned to the States. Subsequently he was appointed Rector of the Venard. At the first General Chapter of the Society in 1929 he was elected Secretary General.
In 1938 he was appointed by the Holy See as Prefect Apostolic of Peng Yang, Korea and in 1939 named Vicar Apostolic. He was one of twelve missionary bishops consecrated in St. Peter's by Pope Pius XII on the feast of Christ, the King, October 29, 1939. He became Titular Bishop of Naissa in Dacia with the motto "Unus pater omnium."
At the outbreak of World War II he was interned with his missioners in Peng Yang and repatriated on the Gripsholm in 1942. He resigned as Vicar Apostolic of Peng Yang in 1944, in favor of a native Korean priest.
Bishop O'Shea died on February 27th, 1945. The Solemn requiem Mass and burial were on March 2, at Maryknoll, in the presence of a large number of bishops and clergy.