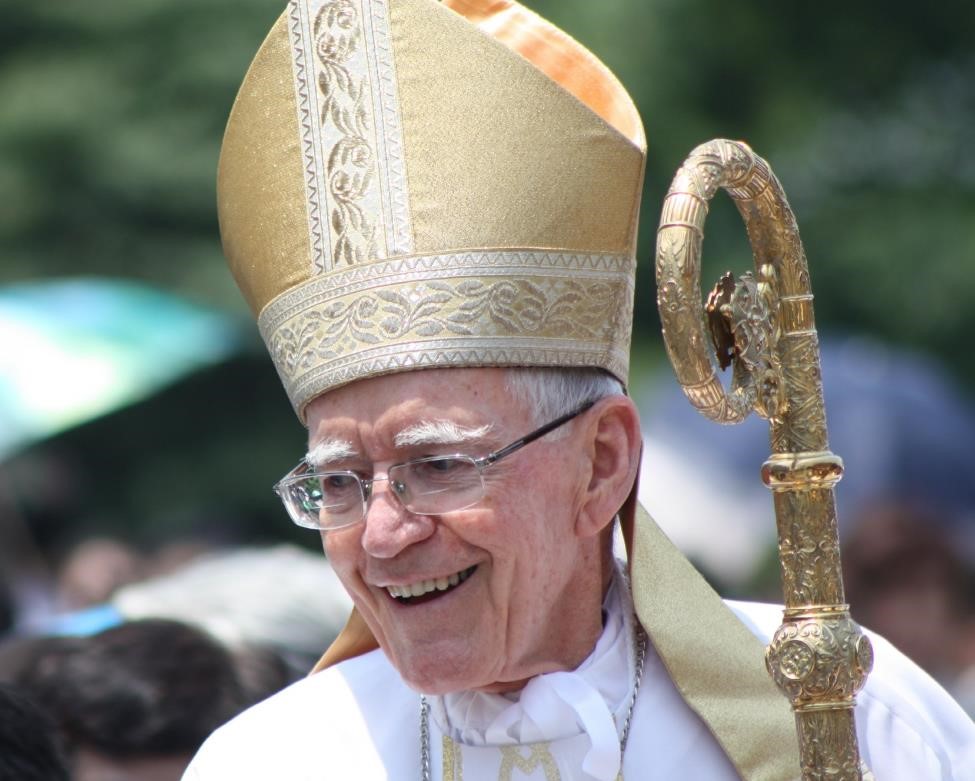 Bishop William J. McNaughton, MM
Born: December 7, 1926
Ordained: June 13, 1953
Died: February 3, 2020
Bishop William J. McNaughton died on February 3, 2020 at Cedar View Rehabilitation and Health Care Center in Methuen, MA.  He was 93 years old and a Maryknoll priest for 66 years.
William John McNaughton was born on December 7, 1926 in Lawrence, MA, son of William John and Ruth Irene Howe McNaughton.  He was the oldest of five children.  He graduated from St. Augustine's Grammar School, Lawrence, MA, in June 1940 and from Central Catholic High School in Lawrence in June 1944.  He entered Maryknoll Apostolic College (the Venard), Clarks Summit, PA on September 2, 1944.  At Maryknoll Seminary in Ossining, NY he received his Bachelor of Arts degree in Philosophy in 1948, Bachelor of Theology degree in 1953, and Master of Religious Education degree in 1953.  He was ordained a priest at Maryknoll Seminary on June 13, 1953.
One month before his ordination, he was assigned to the Maryknoll Mission Region in Korea.  After ordination, Fr. McNaughton studied the Korean language for one year at the Far Eastern Language Institute, Yale University.  He arrived in Korea on July 22, 1954.  After serving for thirteen months as a curate, he served as Pastor of the Pouk Moun Ro Parish, Cheongju from 1955 to 1957.  In August 1957, he opened the new Parish of Nae Duk Dong, Cheongju and served as Pastor until July 1960.
On June 6, 1961 Pope John XXIII raised the status of the Inchon area, where Maryknoll priests had been working since 1958, to that of Vicariate Apostolic.  Fr. McNaughton was named on the same day Vicar Apostolic of Inchon and titular Bishop of Tuburbo Minore.  He was ordained a Bishop by Richard Cardinal Cushing in St. Mary's Church, Lawrence, MA on August 24, 1961.
On March 10, 1962 Pope John XXIII established the hierarchy in Korea, raising all the Vicariates Apostolic to the status of dioceses, and Bishop McNaughton became the first bishop of the new Diocese of Inchon.  He attended the four sessions of the Second Vatican Council (1962-1965). In 2012, Fr. James H. Kroeger MM interviewed Bishop McNaughton, and titled the interview "Personal Reflections on Vatican II by a Participant Bishop".
Bishop McNaughton served as the first bishop of Inchon for 41 years.  Over the years, with the zeal of many priests, religious and laity, Inchon, like the other dioceses of Korea, expanded greatly.  The Church was blessed with many conversions and many vocations.  Schools, hospitals, homes for the sick and aged, and many other institutions and associations reached out to youth, laborers, the poor, infants, the training of lay leaders, etc.  On September 20, 2000 the bishop blessed the new Inchon diocesan major seminary.  A diocesan Synod was held in 1999-2000.
On the occasion of his 75th birthday, Bishop McNaughton submitted his resignation as ordinary of Inchon.  Pope John Paul II accepted it on April 25, 2002.  On that day Bishop Boniface Ki-San Choi, the Coadjutor Bishop, was installed as the 2nd Bishop of Inchon.
At his request, Bishop McNaughton was assigned to the Retirement Community (now Senior Missioner Community) effective July 1, 2002.  Upon his return from Korea, he resided with his sister in Methuen, MA.  In 2018, he celebrated his 65th Jubilee as a Maryknoll priest.
A wake service was held from 3:00 to 8:00 p.m. on February 10, 2020 at Our Lady of Good Counsel-St. Theresa's Church, 22 Plymouth Street, Methuen, Massachusetts 01844. Mass of Christian Burial was held on February 11, 2020 at 11:00 a.m. at Our Lady of Good Counsel St. Theresa's Church.  Burial followed in St. Patrick's Cemetery, 1251 Gorham Street, Lowell, Massachusetts 01852.  A Memorial Mass was held at Maryknoll, New York on February 18, 2020 at 11 a.m. and was concelebrated in the Queen of Apostles Chapel.  Father Richard Aylward was the Celebrant and Fr. Michael Zunno was the homilist.  Father Michael Duggan read the biography and Father David Pfeiffer read the Oath.