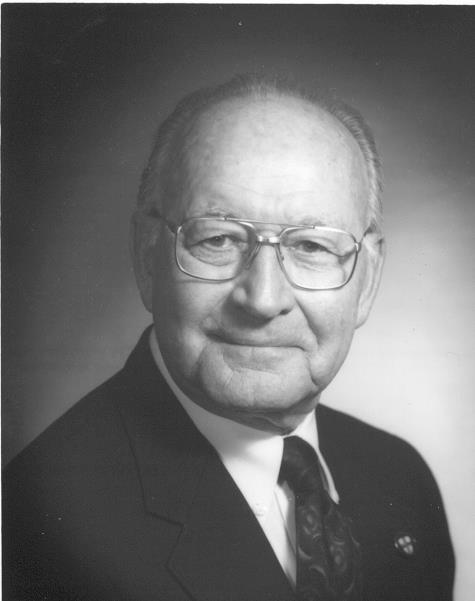 Brother Adrian R. Mazuchowski, MM
Born: March 14, 1921
Oath: June 21, 1952
Died: May 12, 2016
Brother Adrian R. Mazuchowski died on May 12, 2016 at Mission St. Teresa's, Maryknoll, New York.  He was 95 years old and a Maryknoll Brother for 66 years.
Richard Mazuchowski was born in Detroit, Michigan, on March 14, 1921, son of Boleslaus and Bertha Butke Mazuchowski.  He had one brother and two sisters.  Richard attended St. Andrew's Parochial School in Detroit and completed junior high school at St. Alphonsus Parochial School in Dearborn.  After graduating from Wilbur Wright Vocational High School, he attended the Lawrence Institute of Technology, an engineering college in Highland Park, Michigan, at which time he also worked as an apprentice tool-and-die designer.  After one year in school, Richard entered the armed services in October of 1942 and saw service in Europe with the 12th Armored Division.  He was honorably discharged as a Staff Sergeant in January of 1946.
Upon leaving the service, Richard decided to change his field of study to political science and, to this end, enrolled in a liberal arts course at the University of Detroit.  After a year at the University, feeling he had a vocation to the religious life, he entered Maryknoll on August 19, 1947.  Richard pronounced his First Oath of Obedience on June 29, 1949 at the Brothers Novitiate in Akron, Ohio and took the religious name of Brother Adrian.  Brother's first assignment was to the Rector's Office at Maryknoll College, Glen Ellyn, Illinois, where he remained for approximately three years until being assigned to the Maryknoll Mission in Japan.
Brother Adrian took his Permanent Oath of Obedience on June 21, 1952 and left for Japan on August 9th.  During language studies, he gained a good command of the Japanese language and was appointed to work in the business office of the Maryknoll Center House in Tokyo.  He also served as secretary to the Regional Superior for a time during this period.  Later Brother Adrian was elected to serve as Second Assistant to the Regional Superior and represented the Maryknoll Brothers in Asia at the 1982 Inter Chapter Society Assembly held at Stanley House, Hong Kong.  For the last four-and-a-half years of his stay in Japan, he worked in the parish apostolate in Hokkaido, the northernmost island of Japan.
In May of 1984 after 32 years in Japan, he was assigned to the United States to serve in the Controller's Office at the Maryknoll Center, and on May 17, 1988 he was appointed Internal Auditor of the Maryknoll Society.  Brother Adrian was elected as the Brothers' Delegate to the Ninth General Chapter in 1990 and appointed Second Regional Assistant to the United States Region in October 1991.  In July 1992 he was re-appointed Internal Auditor for two years.
Brother Adrian retired in June 1997 and took up residence at the Detroit Development House where he remained until the house was closed in late 1999.   Brother then moved to the Chicago Development House where he worked with the Initial Formation Department, assisting with financial matters.   In April 2007 he was assigned to the Senior Missioner Community, but continued his duties with the Initial Formation Department until late 2011.  At that time, Brother moved to Maryknoll, New York and assisted the Accounting Department three mornings a week doing various tasks. In 2013, he took up residence at Mission St. Teresa's.
A Rosary and wake service was held at 4:00 p.m. on May 16, 2016 at Mission St. Teresa's.  The body was received at the Maryknoll Society Center at 9:30 a.m. on May 17, 2016.  Brother Adrian's family received condolences and prayers until 10:45 am in the Lady Chapel. The biography was read by Brother Kevin Dargan.  Mass of Christian Burial followed at 11:00 a.m. and was concelebrated in Queen of Apostles Chapel.  Father Emile Dumas was Principal Celebrant and Father Robert Reiley was homilist.  Burial followed in the Maryknoll Society Cemetery with Father Russel Feldmeier conducting the graveside service.