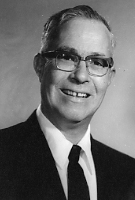 Brother Albert T. Kearly, MM
Born: July 12, 1929
Oath: June 18, 1960
Died: June 29, 1977
Brother LaSalle (Albert Thomas) Kearly died at 4:30 a. m. today in a Lima (Peru) Hospital. Bro. LaSalle had been in the U. S. on sick leave during most of 1973, but had been able to continue his work in Lima these past three years.
Brother LaSalle was born in Bay City, Michigan, on July 12, 1929. He studied at Bay City Central High School, Bay City Junior College, and Central Michigan College of Education where he received an A. B. degree in 1951. From 1951-55 he served in the U. S. Navy. He joined Maryknoll in September 1955, and after the Brookline Novitiate and the training program at Maryknoll, took his Perpetual Oath as a Maryknoll Brother on June 18, 1960. Assigned to the Peru Region in April 1960, he spent almost all the years in Peru in teaching and administration at the Santa Rosa de Lima (Lince section, Lima, Peru) Parish parochial and high school.
Brother LaSalle contributed importantly to making the Santa Rosa de Lima school program one of the best in Peru. From his early days in Maryknoll, he was called a "hard worker at any task and always cheerful and reliable". He seemed very much to enjoy his teaching work, and was highly esteemed in the parish and school to which he dedicated so many year of his life.
Mass of the Resurrection was concelebrated at the Santa Rosa Parish in Lince, Lima, on Thursday, June 30. Brother LaSalle is buried in the Maryknoll plot of the British Cemetery in Callao, where his friend the late pastor of Santa Rosa Parish Fr. John J. 'Red' Lawler (died January 13, 1977) and Fr. Charles F. McCarthy (died June 14, 1964) are also buried. Mass of the Resurrection was concelebrated at the Maryknoll Seminary Chapel in New York for Brother LaSalle at 12 noon on Tuesday, July 5.