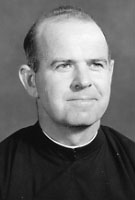 Brother Alphonse Gross, MM
Born: March 30, 1917
Oath: June 29, 1950
Died: January 2, 1993
Brother Alphonse Gross died Saturday afternoon, January 2, 1993 at St. Teresa's Residence, Maryknoll, New York. He was 76 years old and a Maryknoll Brother for 43 years.
Nicodemus Gross was born in Antonino, Kansas, on March 30, 1917, son of August Gross and Rosa Dechant Gross. He grew up in a good Catholic family with 5 brothers and 2 sisters. He attended Our Lady of Help Grade School in Antonino, Kansas, and in June 1936 graduated from Rural No. 1 High School in Schoenchen, Kansas. He attended Kansas State University for one semester and then worked on the family farm and other lobs for four years. In September 26, 1940 he was inducted into the U. S. Army and served as a Technician 5th Grade with the 10th Engineer Battalion in Algeria-French Morocco, Southern France, Tunisia, Sicily, Naples, Rome-Arno, Rhineland and Central Europe. He received the Croix de Guerre Citation with Palm, the Good Conduct Medal and the American Defense Service Ribbon. He was honorably discharged with the rank of sergeant at Fort Leavenworth, Kansas, on June 27, 1945.
He said that his travels and memories of seeing the human tragedies and miseries of war evoked his interest in foreign missions. Nicodemus entered Maryknoll at the Brothers Novitiate in Akron, Ohio, on October 1, 1948 at age 31. He chose the religious name of Brother Alphonse and pronounced his First Oath of Obedience on June 29, 1950 and his Permanent Oath on June 26, 1953. He served as manager of the farm at Maryknoll Center, New York, for three years. His Superior wrote of him that: "Brother Alphonse is a hard working farm manager with care of cattle and farm lands and general supervision over all farm projects except the chickens. His farm work — cattle and pigs — give proof of his interest and devotedness to the cause of Maryknoll. A look at his beefs and porks on the hoof should be convincing." On May 26, 1953, Brother Alphonse was transferred to Maryknoll Apostolic College (Venard) at Clark Summit, Pennsylvania, where he worked as assistant farm director for about four years.
In June 1957 Brother Alphonse was assigned to Maryknoll Junior Seminary, Mountain View, California, where he worked on grounds maintenance for the rest of his active life. His Superior wrote of him that: "He is a good Brother spiritually and a simple person. Humility and docility are noticeably good qualities in his character. He performs the tasks assigned to him in an adequate fashion according to his limited ability. He cooperates with the rest of the community and mixes with them at recreation and other functions." As a hobby he composed a lengthy history of his family and it is preserved in the Maryknoll Mission Archives at Maryknoll, New York.
In January 1976 at age 59, Brother Alphonse enrolled in the Special Society Unit with continued residence at Maryknoll Residence, Los Altos. Along with the other Residents he survived the major earthquake of October 17, 1989, which severely damaged the Residence. He was transferred to Maryknoll Center in Ossining, New York in November 1989, and on October 10, 1990 he moved into St. Teresa's Residence.
Wake services will be conducted in St. Teresa's Chapel and in Queen of Apostles Chapel on Tuesday evening, January 5. Concelebrated Mass of Christian Burial will be offered in Queen of Apostles Chapel, Wednesday morning, January 6. Interment in Maryknoll Center Cemetery.