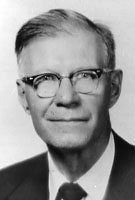 Brother Anthony C. Mantel, MM
Born: September 2, 1922
Oath: September 29, 1949
Died: March 24, 1993
Brother Anthony Mantel died peacefully in his sleep at Maryknoll Residence, Los Altos, California, during the night of March 24, 1993. He was 71 years of age and a Maryknoll Brother for 47 years.
Carl Joseph Anthony Mantel was born in Hammond, Indiana, on September 2, 1922, only child of Gallus Anthony and Margaret Heimbach Mantel. He attended St. Joseph Parochial School and graduated from Catholic Central High School also in Hammond in June of 1941. He was attracted to Maryknoll through the Field Afar Magazine during his junior year. As a seminarian he studied Latin language for one year in the Maryknoll Junior Seminary in Akron, Ohio and then 2 years at Maryknoll Apostolic College, (Venard), Clarks Summit, Pennsylvania. During his first year of philosophy at Maryknoll Major Seminary in Ossining, New York, he found the studies too difficult for him.
On March 23, 1945 Carl enrolled in the Maryknoll Brothers Community. At the end of his novitiate year at Bedford, Massachusetts, he was assigned to Maryknoll Junior Seminary, Mountain View, California. On September 29, 1946 he chose the religious name of Brother Anthony and pronounced his First Oath of Obedience in the seminary chapel. His Superior wrote that "Brother Anthony was entirely reliable, anxious to do his work well and very pious; a good influence on the other Brothers."
On April 15, 1949 Brother Anthony was assigned to the Maryknoll Mission in the Pando Vicariate, Bolivia. He engaged in Spanish language and cultural studies at the Maryknoll language school in Arequipa, Peru. He liked companionship with people and gained a good facility in the colloquial language. On September 29, 1949 he pronounced his Permanent Oath of Obedience and returned to the Pando Vicariate where he served for three years. He was transferred temporarily to the Maryknoll Center House in Cochabamba to assist the Local Superior. He returned to Riberalta on February 16, 1955. During a home furlough in 1956 he served for ten months at the Venard in Clarks Summit, and then returned to Riberalta.
Brother Anthony returned home to Hammond on July 11, 1961 to help care for a family member. On October 26, 1961 he was assigned to the Maryknoll College, Glen Ellyn, Illinois. There he was placed in charge of the receiving and shipping room and other work connected with the business office. His Superior wrote that "Brother Anthony is of invaluable help to me. I rely on him for jobs of trust and care of the residents. If he were removed we would certainly need another healthy Brother to replace him to do all the work he does here that only a Brother member of the household could do."
After Maryknoll College was closed in June of 1971, Brother Anthony stayed on at the empty College until December 1972. Once again in January 1973 he returned to the Maryknoll Mission Region in Bolivia. His last assignment was to the Maryknoll parish in Santa Cruiz, Bolivia. On April 2, 1991 he requested enrollment in the Special Society Unit with residence at Maryknoll Residence, Los Altos, California, effective August 1, 1991. Brother Anthony served for 26 years among the people of Bolivia; and 21 years in our Maryknoll seminaries. As a Brother he contributed much valuable service to the Society and missions. He left Bolivia with mixed feelings of sadness and longing for what Bolivia and the Bolivians were to him, and a certain joy and expectation about his future at Los Altos.
Wake service held Monday evening, March 29, at Maryknoll Residence, Los Altos; and Concelebrated Mass of Christian Burial offered in the chapel at the Residence on Tuesday, March 30, 1993. Interment in the Maryknoll Residence Cemetery in Los Altos.