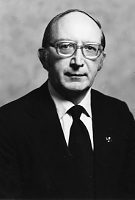 Brother Augustine J. Horkan, MM
Born: February 15, 1923
Oath: June 29, 1953
Died: June 9, 2010
Brother Augustine Horkan died at St. Teresa's Residence in the evening of June 9, 2010. He was 87 years old and a Maryknoll Brother for 56 years.
James Joseph Horkan was born on February 15, 1923 in County Mayo, Ireland, son of Patrick and Mary Tarpey Horkan. He had four brothers and four sisters. One of his sisters was Sister M. Assumpta of the Sisters of St. Joseph of Peace.
As a boy, James studied at the Tonroe National School in the Parish of Carracastle Ballaghaderreen, County Mayo. He did farm work in Ireland for ten years before coming to the United States in April 1949. At that time he worked for a large firm in downtown New York City. Providentially he came across a copy of Maryknoll's Field Afar magazine and became interested in the Maryknoll Brothers.
On September 27, 1951, James entered the Maryknoll Brothers' Novitiate at Brookline, Massachusetts. He pronounced his First Oath of Obedience on June 29, 1953 and chose the Religious name of Brother Augustine. After profession he moved to Maryknoll Center in Ossining, New York where he managed a piggery of two hundred pigs. After two years, he performed a variety of other jobs, including the care and maintenance of the grounds. He also took courses at St. Joseph's Institute, and in his training program he took courses in electricity, carpentry, welding and auto mechanics at White Plains. Brother took his Perpetual Oath June 10, 1956.
In January 1961, Brother Augustine was appointed Maintenance Manager at the Brothers' Novitiate in Brookline, and he had that position until it was closed in 1966. He was then assigned to the Development Department and remained in the Chestnut Hill, Massachusetts house. While working in the Department, he visited the Maryknoll missions and became very much involved in the Charismatic Movement.
On July 1, 1980 Brother Augustine was assigned to the Maryknoll Brothers Mission Unit established in 1976 in Apia, Western Samoa and in 1982 he was elected Unit Coordinator. He was re-elected in 1985 for a second term. Brother was appointed Director of the Justice and Peace Office of the Archdiocese of Apia in 1981 and held that office until 1991. He continued his active work with charismatic prayer groups. In 1991 Brother became Chaplain at the National Hospital. In 1992 he became a member of the Special Society Unit with residence in Apia and continued service in his daily Prayer Ministry at the hospital. In February 2001, Brother Augustine entered the Retirement Community but continued his work in hospital ministry in Apia. At that time Brother Augustine stated his missionary vocation has been a great gift from God and he is deeply grateful to God and Maryknoll for making it possible for him to answer the Call.
He returned to the United States in June 2003 and in September of that year moved to St. Teresa's Residence.
Wake services were held at 4:30 p.m. on June 15, 2010 at St. Teresa's, and at 7:30 p.m. in Queen of Apostles Chapel at Maryknoll Center where Brother John Blazo officiated and Brother Kevin Dargan read the biography. Mass of Christian Burial was concelebrated in Queen of Apostles Chapel on June 16, 2010 at 11:00 a.m. Father Thomas McDonnell was Principal Celebrant and homilist. Burial followed in Maryknoll Society Cemetery with Father Paul Masson conducting the graveside service.