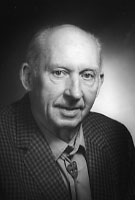 Brother Barry J. Norman, MM   
Born: August 7, 1929
Oath: June 29, 1958
Died: August 16, 2008
Brother Barry I. Norman died on August 16, 2008 at Phelps Memorial Hospital, Sleepy Hollow, New York. He was 79 years old and a Maryknoller for 50 years.
Leo John Norman was born on August 7, 1929, son of Leo and Margaret Barry Norman in Mineral Pointe, Wisconsin. He has two sisters. He attended Epiphany grammar school and St. Leo high school, both in Detroit. Upon graduation Leo joined the United States Air Force and was honorably discharged in July 1954 with the National Defense Service Medal, Occupation Medal Germany, and Good Conduct Medal. After working two years as a photographer, he entered Maryknoll at the Brothers' Novitiate in Brookline, MA in September 1956. He pronounced his First Oath on June 29, 1958, taking the religious name of Brother Barry.
After working in the United States with Father Albert Nevins, MM and with Sr. Julia Bertram in the photo and sound recording for 24 filmstrips for Eyegape, on June 19, 1964 Brother Barry pronounced his Perpetual Oath and was assigned to the mission region of Bolivia. He worked for two years setting up a printing press for documents for Father Joseph Beausoleil, MM the founder of the center of Ahorro y Credito, (Credit Union), and for several years with Father Leo Sommers, MM at the Cochabamba radio station. Brother Barry, along with Brother Vianney Pick, MM, started 'AVIC', Centro Audio-Visual de Comunicacion, also in Cochabamba. Brother Barry suffered from some health problems and spent some time back in the United States, but he was able to return to Santa Cruz, Bolivia for a short time.
Brother Barry returned to the United States again in June 1980 and was assigned to the United States Region in November 1980, working in the Bronx. In April 1982 he began work with the Physical Plant Department and was Administrator of Bethany for four years, after which he worked at the Center. He entered the Special Society Unit on August 1, 1991 and the Retirement Community in February 2001 and resided at 'Creekview Campsites' in Rosendale, New York until very recently, when he moved to St. Teresa's.
Wake services were held at 4:30 p.m. on August 19, 2008 at St. Teresa's and at 7:30 p.m. in Queen of Apostles Chapel at Maryknoll Center where Brother Kevin Dargan officiated and Father Paul O'Brien read the biography. Mass of Christian Burial was concelebrated in Queen of Apostles Chapel on August 20,2008 at 11:00 a.m. Father Robert Lloyd was Principal Celebrant and homilist. Burial followed in Maryknoll Society Cemetery with Father John Barth conducting the graveside service.