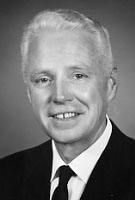 Brother Bede T. Horgan, MM
Born: March 21, 1909
Oath: August 30, 1948
Died: July 14, 2000
Brother Bede T. Horgan died on Friday morning, July 14, 2000 at St. Teresa's Residence. He was 91 years of age and a Maryknoll Brother for 52 years.
Charles Thomas Horgan was born on March 21, 1909 in Jersey City, New Jersey, son of John and Mary Twomey Horgan. He had seven brothers and three sisters. He attended St. Joseph's grammar school and Dickinson High School, both in Jersey City. Upon graduation, Charles attended St. John's University, Brooklyn, New York for three years and New York University, New York City for one year majoring in business. For ten years he worked at First National City Bank, New York City before he joined the U.S. Navy in December 1941. During his time in the Navy, he attained the rank of Lt. Commander. After being honorably discharged, he entered the Maryknoll Brothers' Novitiate in Akron, Ohio on February 10, 1947 and pronounced his First Oath on August 30, 1948, taking the religious name of Brother Bede. Brother Bede took his Perpetual Oath on August 30, 1951.
Brother Bede's first assignments were to the Procurator's Office at Maryknoll, New York and then at Maryknoll College, Glen Ellyn, Illinois. On May 28, 1953, Brother was assigned to the Chile Region where he did work at the Center House in Santiago and also with the NCWC, an organization working with the interchange of Chilean students to study in the United States. In February 1959, Brother Bede returned to the United States and began work in the Procurator's Office at Maryknoll Junior Seminary, Mountain View, California. In the fall of 1959 he gave a presentation on "Brothers in Mission" to a delegation of Brothers at the meeting of the Mission Secretariat in Washington, D.C. Brother Bede shared the following with the delegates: "To be a missioner brings one great spiritual satisfaction… but whatever the nature of his work, the Brother must keep in mind always, that he is a missioner and that the work is purely his means of attracting, influencing, and saving souls, his means of preaching the gospel to every creature." On July 1,1967, Brother was assigned to Bolivia and work at the Center House in La Paz. In June 1970, he was temporarily assigned to the Business Office at the Maryknoll Center, New York. After finishing up this assignment, Brother Bede was assigned to the Lima, Peru Center House. In 1973 Brother was authorized to visit and interview all the Brothers in the Africa Region, in order to assist the General Council in developing a process for carrying out the Recommendations of the Chapter (1972) Paper on the Brothers. Also in 1973, he was appointed Financial Assistant for the Peru Region.
On January 1,1975, Brother Bede was assigned to the Special Society Unit with residence in Lima, Peru. At the time of Brother Bede's assignment to the Special Society Unit the Superior General wrote: "We would like to take this opportunity to express our appreciation and gratitude for the many years of devoted service you have given to the work of Maryknoll, and we are sure that even in retirement you will always cooperate with the work entrusted to us in the missionary apostolate". In June 1978, Brother returned to the United States and took up residence at Maryknoll's 39th Street House in New York City. He not only assisted in House affairs, but began his chaplaincy work at Bellevue Hospital. Due to declining health, Brother Bede left this position and took up residency at St. Teresa's on May 14, 1993.
Brother Bede was a true gentleman and all who knew him felt his kindness, respect and compassion. He took time with people and was always interested in them and what they were doing. He loved Maryknoll and his missionary vocation. Brother Bede will be missed as friend and brother.
Wake services were held at St. Teresa's Residence at 7:00 p.m. on, Monday, July 17, 2000 and at 7:30 p.m. in Queen of Apostles Chapel where Father Philip Erbland officiated and Brother Joseph Ziegler read the biography. Mass of Christian burial was concelebrated at Queen of Apostles Chapel on Tuesday, July 18, 2000 at 11:00 a.m. Father William D. McCarthy was principal celebrant and Brother Jude Conniff gave a reflection. Burial followed at the Maryknoll Cemetery with Brother Wayne Fitzpatrick conducting the graveside service.