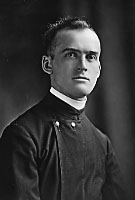 Brother Benedict Barry, MM
Born: October 13, 1893
Oath: September 6, 1930
Died: March 22, 1963
Cornelius F. Barry was born in New York City on October 13, 1893. After graduation from high school he took a business course for one year and then went to work for the Edison Company for nine years. He served in the Army during World War I from 1917 to 1919, then returned to work in New York. He entered Maryknoll January 29, 1922.
He was assigned to South China in 1924 and after his language course took up duties at the Center in Kongmoon. In 1926 he was transferred to the Procure in Hong Kong where his skill in office work was an important contribution. Two years later he went to the new mission of Fushun to handle the procuratorial business of the growing mission for Bishop Lane. Here he remained until the outbreak of World War II when he was interned with the other Maryknollers and repatriated on the Gripsholm.
On his return home he was assigned to the Venard until 1947 when he was appointed to Rome. The following year he returned to the States and was assigned to Lakewood. In 1950 he moved to the Center to work in the Porter's Lodge. In 1959 he assisted for several months at the Buffalo Promotion house. Since 1960 he was at Maryknoll. Weakening health made it difficult to meet the increasing demands placed on the Brother in the Porter's Lodge, so for the last few years he assisted Father Higgins in the office of the Maryknoll Overseas Extension Service.
After being anointed, he was taken to Phelps Memorial Hospital where he died on March 22, 1963.
Funeral and burial took place at Maryknoll on March 25.