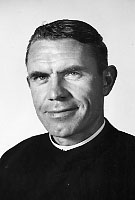 Brother Blaise Coffey, MM
Born: November 14, 1924
Oath: June 29, 1956
Died: July 20, 1980
On Sunday, July 20, 1980, at 10:15 a.m., Brother Blaise (Richard Paul) Coffey died at St. Teresa's Residence, Maryknoll, New York. In life and in death Blaise was a model of courage, of a heart undismayed by disaster.
Blaise, the second of three sons of Marguerite Corridan and John Henry Coffey, was born Richard Paul, in Quincy, Mass. on November 14, 1924. After Hunt Grammar School and Weymouth High, he served in the Navy for two and a half years. Discharged as Seaman First Class, he then entered the Massachusetts College of Pharmacy where he received a B.S. degree in 1950. Until he entered Maryknoll in December, 1954, he was engaged in pharmacy and in coaching of the Little League and C.Y.O.
Blaise came to Maryknoll because he felt simply "the foreign missions are where I can do the most good" and "because of the fine impression the Brothers made on me when I visited the novitiate". From his entering Maryknoll at the age of thirty, Blaise was recognized as the quiet, mature man of deep religious convictions. He stated that "an ideal brother is one who does everything to the best of his ability at all times."
In April of 1959 Blaise was assigned to Peru where he was renowned as an excellent instructor in Science, English and Religion. His seventeen years in Peru were interrupted by a year of science study at the State College in Boston and by a year of loan of himself to the Bolivia Region. In February, 1977, he was assigned to Chile in the hope of more work with youth and in counselling. In May, 1979 he returned to the States on sick leave.
During the whole of his mission career Blaise was completely dedicated to the Church and to Maryknoll. It was noted that he gave little thought or time to the discussion of team work and community, but that he lived his conviction and was judged as a fine team worker and community man.
There was a Wake Service on July 22nd at Maryknoll, conducted by Fr. Jeremiah Brennan, Regional Superior in Chile, and Mass of the Resurrection was celebrated on the 23rd, Principal Celebrant being Fr. Bernard P. Byrne, Regional Superior in Peru; Homilist Fr. Richard, Clifford and Biography by Frother John Frangenburg, a classmate. Burial followed in the Maryknoll Cemetery, with graveside services conducted by Fr. James Weckesser, fellow missioner in Chile.
One Maryknoll friend of Blaise, who lived with him both in initial formation and then later in Peru, said simply "Blaise always played to win." With patience and courage he lived this life fully. With the same patience and courage, he died to a fuller life. "One thing I do is to forget what is behind me and do my best to reach what is ahead. So I run straight toward the goal in order to win the prize, which is God's call through Christ Jesus to the life above". (Phil. 3:13-14)